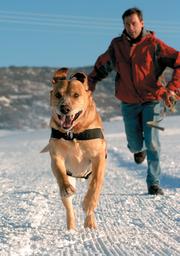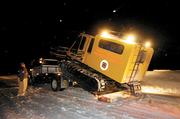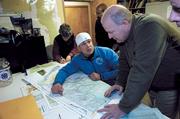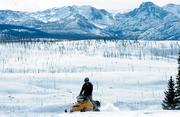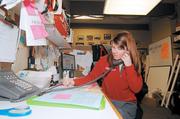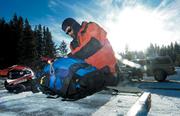 By the minute
Time-based account of Routt County Search and Rescue's Jan. 21 search for missing hunter Jian Shu Cheng in South Routt County.
6:45 p.m. Denver resident and amateur hunter Jian Shu Cheng finds cell phone reception outside of Phippsburg and calls 911 to report he is separated from hunting partner Scott Arnayo. The men had been hunting elk legally on private property.
7 p.m. Routt County Communications pages Routt County Search and Rescue command staff and members to respond to the Search and Rescue barn on Yampa Street.
7:28 p.m. Search and Rescue incident commander Tim O'Brien and member Scott Havener begin laying out maps trying to plot Cheng's location. Cheng is thought to be near Routt County roads 13 and 15. Information comes in that Arnayo has made it out of the field and that Cheng is "exhausted."
7:35 p.m. Search and Rescue crews begin loading snowmobiles, skis, snowshoes and other equipment into two search vehicles.
7:45 p.m. Two search crews begin heading south on Colorado Highway 131. Roads are icy and light snow is falling.
8:20 p.m. One of the search crews, driver Darrel Levingston, Jim Linville and Glen Hammond, spots two sets of snowshoe tracks at the end of Routt County Road 19 near Phippsburg. Hammond and Linville investigate but do not find anyone in the area.
9:05 p.m. The same crew spots a white Nissan Frontier parked at a home. The truck is running and belongs to Arnayo.
9:10 p.m. Both search crews convene at the home and begin talking to Arnayo about where Cheng might be. Arnayo says he left Cheng for "about 20 minutes" at 4:30 p.m. and that Cheng was gone when he returned.
9:25 p.m. Crews decide to stage at the Craig Herefords Ranch off Colo. 131 in Phippsburg. O'Brien continues to have intermittent cell phone conversations with Cheng. Cheng tells O'Brien he can see railroad signs.
10:45 p.m. Snowmobile crews find Cheng walking along a fence on a ridge near the Craig Herefords Ranch. Cheng is brought to the Search and Rescue vehicles, where he is warmed and reunited with Arnayo. He thanks O'Brien and the crew for potentially saving his life.
At Home, Spring 2007
It was 6:45 p.m. on a frigid, cloudless January night when Jian Shu Cheng realized he was lost.
After spending the morning hunting elk with his friend Scott Arnayo, the pair became separated, and Cheng made a common mistake - he started walking.
Ultimately, Cheng's ordeal ended well. But it might not have without the efforts of Routt County Search and Rescue, whose members found Cheng walking along the boundaries of a private ranch five hours after he became lost. The temperature had plummeted to well below zero, and it was unclear whether Cheng had food, water or the ability to start a fire.
Cheng's 911 call for help was one of about 80 such calls Routt County Search and Rescue responds to each year. Most of the calls are from residents and visitors who are lost or injured in the rugged terrain that surrounds the county's few cities and towns. The number of calls for help has increased in recent years as more people move to and visit Northwest Colorado. Also adding to the workload is the increasing popularity of extreme sports and adventures.
About half of those 80 calls become full-blown search and rescue missions. And of those 40, about half are considered "confirmed saves." In other words, the lost or injured person or people would not have survived without the assistance of Search and Rescue crews.
While most calls involve lost hunters and snowmobilers or hurt skiers or snowboarders, Search and Rescue crews also respond to calls for assistance from other search teams across Colorado. They also spend countless hours training and teaching children and adults about outdoors safety, survival and avalanche awareness.
All Routt County Search and Rescue members are volunteers, and the 50 or so residents who are part of the organization are on call 24 hours a day, seven days a week, 365 days a year. When their pagers go off, Search and Rescue members often leave their jobs, families and leisure-time activities behind - to find the stranded.
Well-deserved elitism
Routt County Search and Rescue is one of 85 Mountain Rescue Association search teams, a national organization comprised of the most expert, well-qualified search teams across the nation and Canada. There are roughly 2,500 search and rescue teams across the nation.
Washington resident Fran Sharp, president of Mountain Rescue Association, said search teams belonging to his organization must recertify every team member every five years in three disciplines to maintain their accreditation.
"To have the MRA status, a group of your peers from other regions tests you in high-angle rock rescue, snow rescue and search," she said. "Being in Colorado, it's especially important that teams are qualified in all those areas."
Randall Hannaway, president of Routt County Search and Rescue, said being an MRA-accredited team is an accomplishment most residents don't realize.
"In a lot of other parts of the country, search and rescue crews are handled by volunteers with little or no training," he said. "People in Routt County and this state really don't know how blessed they are by having access to these teams."
There are 14 other certified teams in the Rocky Mountain Region of MRA, which includes Wyoming and New Mexico. Other MRA-certified teams include the Summit County Rescue Group, Evergreen's Alpine Rescue Team and Vail Mountain Rescue Group.
"We are one of the most elite, highly skilled teams in the world," Hannaway said. "It's a big deal."
Finding what it takes
To maintain such an elite team of qualified rescuers, Routt County Search and Rescue accepts applications to join the organization year-round, with new members being selected in late fall to begin training at the beginning of the year. Search and Rescue is overseen by the Routt County Sheriff's Office, and it receives funding from the Sheriff's Office, the city of Steamboat Springs, private donations, grants and through an annual fundraiser.
There currently are about 50 members on the team, although that number fluctuates annually, Hannaway said.
"We have a really good team," he said. "But as any good team does, we're always recruiting to be better. It's hard to keep people on for a long time because you have attrition - you have people moving, people building a house, getting married ... life."
Scott Havener has been with Routt County Search and Rescue for 14 years and specializes in missions involving his search dog, Duke.
Driving back to Steamboat Springs from the Cheng search, Havener recounted some of what it takes to make the team.
"Adrenalin," he said. "We're all adrenalin junkies. You have to be to do this."
Havener said being a Search and Rescue member can be hard on families and employers. Most team members have full-time jobs they ask to leave to respond to a mission page.
"All the families worry," he said. "We're out there making some really tough decisions."
Getting the page
For Jian Shu Cheng, having a cell phone probably saved his life.
Because Search and Rescue crews could contact him periodically throughout the search, they could determine where he was based on the landmarks and lights he was seeing.
"Cell phones are great," Havener said. "It's changed the whole nature of the business because (lost people) can give you really good clues as to where they are."
Search and Rescue members are paged almost immediately after a reporting party, or "RP," calls 911 for help. There are three types of calls that crews respond to - searches, rescues or search and rescues.
With a search, crews have more time to plan where the lost person or people might be before heading into the field, whereas a rescue page indicates a sense of immediacy.
Regardless of the call, the essential element to any successful mission is planning.
"Planning is so critical," Hannaway said. "If you don't plan, people don't get out, and people don't get found."
In the search for Cheng, the crew's planning likely saved his life.
"Thanks very much," Cheng said, reaching over the backseat of Search and Rescue incident commander Tim O'Brien's car to shake his hand. "This is the hardest thing I've ever done. I'm just glad I survived."
O'Brien smiled.
"We're just glad you're OK," he said. "That's the bottom line. It's what we do."