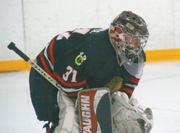 Steamboat Springs — Tim Higbee is the first to admit his pursuit of the hockey dream has been a bit of a "journeyman's path."
The 21-year-old goalkeeper left Steamboat Springs in high school to play juniors in Marquette, Mich., and then returned to finish school at Denver East while playing for the Colorado Outlaws.
From there, Higbee headed north to increase his collegiate recruiting stock on a three-year journey that led him from Ontario to Manitoba to St. Paul, Minn., and then back to Manitoba.
"It has absolutely helped me," Higbee said of the nomadic life. "I always have to prove I'm a good goalie when people ask, 'how can he be good coming out of Colorado?' But I don't think I'd be so mentally tough now and driven if I hadn't : and the success has put me on a stepping stone to play in college."
The success Higbee found was playing for the Charleswood Hawks, a junior hockey team in the Manitoba Major Junior Hockey League. Higbee helped his team to an impressive 41-2-1-1 regular season record in the historical league that was established in 1970.
"In terms of the fabric of Winnipeg, everyone in the whole city watches and has their favorites or has played on one of the teams, because it has been around so long," Higbee said of the league. "People feel more connection with the players here than at a higher level."
Higbee's postseason play has won the dedicated fans over. Higbee led all MMJHL goalies with a 1.38 goals-against average in the playoffs, helping the two-time defending champion Hawks to this week's league championship against the Fort Garry Twins. Higbee's 38-shot shutout performance in the Hawks' 2-0 win on Tuesday gave his team its second win in the best-of-seven finals that continue through the weekend.
"When I say that I spent two years playing juniors in Canada, going back to the states that carries some weight," said Higbee, who feels his overall game has benefited from an ingrained, rougher brand of play. "Every player here is well-rounded - they can grind or cycle down low - they have all the basics down, nothing flashy, but they just get the job done. It's a different mentality of toughness to play and that's the hardness you need."
Higbee's hardened play has caught the attention of a few colleges, and now he has narrowed the prospective field down to a short list of NCAA Division III schools that include Augsburg College and Gustavus Adolphus College in Minnesota and St. Norbert College in De Pere, Wis.
"It's great any time kids can advance to play at the junior level anymore in the hockey world. Collegiate teams, DI or DIII, will recruit from the junior leagues," Steamboat Springs Youth Hockey Association director of player development Dave Strang said. "Timmy's an excellent goaltender, from his work ethic to his technique. He's leading that league in goals-against and save percentage and put his team in the championship."
For now, Higbee is pleased to be on the right track and focused on the championship games at hand: "Things have been going great and I can't ask for anything more than to be first in league and to prove everyone right that's believing in you."
Visit www.charleswoodhawks.org for updated results and photos.