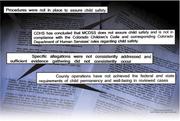 Craig — A recently released report finds that Moffat County Department of Social Services is not in compliance with state rules and "does not assure child safety."
The report, dated Jan. 11, summarizes the Colorado Department of Human Services' review of Moffat County's Child Protection Program in December 2006.
The report lists concerns about the county's decisions on entering referrals into the state's automated reporting system and when to involve the court as reasons for the department's review.
"CDHS is concerned about child welfare practices in this county," the report reads. "Complaints have come from the community and clients regarding case-planning practices."
Such reviews are uncommon, said Sharen Ford, manager for permanency services for the Department of Human Services. Unlike annual program reviews, unscheduled ones such as Moffat County's are initiated by community concern or data collected on the state's system.
The report states the department's staff read case files, reviewed automated referral files and interviewed Social Services staff during the Dec. 11 to 13 visit. The review committee also met with school, law enforcement and crisis shelter representatives.
The review revealed strengths in Social Services, including caseworkers with potential who are committed to learning and helping families, and regular meetings to discuss policies and procedures.
The 6 1/2 pages following the list of strengths are more critical of the department and detail compliance shortcomings with state and federal guidelines.
Findings include inadequate procedures to ensure children's safety and inconsistent, insufficient evidence gathering.
One example cited a 3-year-old child left in hot water, which caused severe burns requiring skin graphs. Social Services' report was inconclusive. Law enforcement officers found enough evidence to criminally charge both caregivers.
Another finding is Social Services did not consistently assign investigations of child abuse or neglect.
"The decision regarding investigation is made by the worker who is on call at the time the report is made," the report reads. "County staff was not aware of any internal standardized process that dictates when to investigate a report of child abuse/neglect."
The report also found Social Services does not meet state and federal child permanency requirements, did not appropriately use court processes, did not properly complete Family Service Plans for clients and had poor documentation for many cases.
Marie Peer, Moffat County Department of Social Services director, said she received the final report March 26 and has since looked carefully at the findings.
"We take the results very seriously," Peer said. "It's very important that we're doing everything we can to make sure all children are as safe as they can be."
Peer submitted a corrective action plan to the state Wednesday. The state has not reviewed the plan.
If it is accepted, the state department will monitor the county department's progress during a 90-day period.
"If we do not see significant compliance occurring, we could add things that they need to work on to help motivate the county to get into compliance and to ensure kids are safe," Ford said.
The state department supervises county-level departments. Moffat County commissioners administer the local Social Services program.