Photo Gallery
Over the Rainboat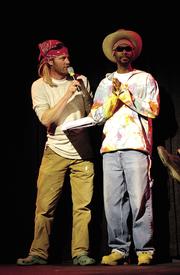 Steamboat Springs — Imagine what would happen if the Steamboat Springs City Council took an investigative peace retreat to the Rainbow Gathering last summer.
That is the premise of Ski Town Productions' "Rainboat Connection: What's That Smell?" parody, which brings local satire to the Steamboat Springs Mountain Theater tonight and Saturday.
The production is based on the thousands of hippies who camped in North Routt County last summer as part of the annual gathering of the Rainbow Family of Living Light.
"It's very much like a cartoon on stage," said Brian Harvey, producer and president of Ski Town Productions. "There is gross stereotyping, and we take reality to the absurd."
In the typical Ski Town Production style, actors pick on the usual suspects including City Council, law enforcement and rednecks.
"There is the obvious dynamic between law enforcement and the Rainbows in real life that was very interesting," Harvey said. "I spoke with some friends from the Forest Service - an adviser if you will - to make sure we got the terms right and for those of us that experienced the Rainbows, it's just good fun."
The show will bring back the Dumpster-diving incident as Dumpster Gate - spoofing Watergate.
The name of the show is a parody of the The Muppet Movie's "Rainbow Connection" song.
"Kermit will make an appearance," Harvey said. "And we have all original songs in a variety of musical styles and genres. There is even an opera scene in the show."
Andy Pratt is the musical director of the Pirate Band, which includes Kurt Wipperfurth and Tim Cunningham.
Kelly Anzalone is directing the multi-media production that will involve time travel, new characters and the comeback of Anzalone's beloved character, Dude.
Scott Parker co-produced the show with Harvey, the script was written by Todd Danielson.
"He is prolific and a very talented writer. It's a clever show," Harvey said. "It's a little dark, but dark in a funny way."