Past Event
Friday, April 13, 2007, 7 p.m. to 9 p.m.
Steamboat Springs High School, 45 Maple St., Steamboat Springs
All ages / $5 - $10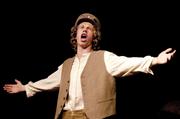 Steamboat Springs — Local teens portrayed a tale of hardship and poverty with an amazing wealth of ability Thursday night.
In Steamboat Springs High School's opening performance of the Broadway musical "Fiddler on the Roof," a talented cast treated an audience of about 100 to an entertaining, impressive production that raised the bar for high school theater and contained scenes of hilarious dialogue and inspiring vocals. Set in Tsarist Russia in 1905, the musical tells the story of Teyve, a Jewish dairyman with five daughters who struggles to maintain his family's cultural and religious heritage in a rapidly changing world on the verge of revolutionary upheaval.
Sophomore Cody Poirot portrayed Teyve with an energy and vitality that, by itself, was worth the price of admission. Speaking and singing in a gravelly Russian accent while stomping around the stage in galoshes and a prayer shawl, Poirot made the audience forget it was watching a high school student.
Belting out the classic song "If I Were a Rich Man," Poirot strode across the stage with the confidence and timing of a veteran actor.
Freshman Grace Stockdale played Teyve's wife, Golde, and turned in a stellar performance as the female lead. Despite her youth, Stockdale was every inch the mother of five daughters on stage, and sang beautifully with Poirot in the duet "Do You Love Me?"
There is no shortage of talented singers in the "Fiddler" cast. All five daughters - Miriam Pensack, Rachel Invancie, Matthia Duryea, Sarah Hill and Haylie O'Brien - made an outstanding ensemble in "Matchmaker," and Pensack shone again in the Act 2 song "Far From the Home I Love."
And not to go unnoticed is the actual fiddler on the roof herself, Renee Spady, who consistently set the tone for the musical with flawless fiddling throughout the show, which runs tonight and Saturday in the high school auditorium.
It's a performance you don't want to miss.
"This is one of the best shows I've seen in years," said Carole Buelter, an instructional support specialist at the high school.
The high school's version of "Fiddler" is a superbly fun show with a cast that is talented from top to bottom, lively dance sequences by choreographer Heidi Meshurel-Jolly, great directing by Rusty De Lucia and outstanding sets built by an inventive crew.
"You could say every one of us is a fiddler on the roof, trying to scratch out a simple tune without breaking his neck," Teyve says.
This show breaks a leg.