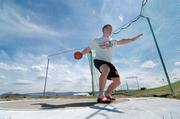 Steamboat Springs — While all three Routt County track and field teams will be competing in Glenwood Springs on Saturday, all three go into the meet with different goals.
Hayden is looking to build on its performance at the meet in Meeker, where the Tigers' girls placed first and the boys placed second.
Soroco will be competing with a full squad for the first time this year.
And Steamboat Springs will be working on refining technique before next month's regional and state competitions.
The Sailors won't have their full roster of athletes going to Glenwood because of ACTs.
Still, the Sailors are hopeful for a good showing.
"We just want to put them in as many events as possible and get them used to competing," hurdle and sprint coach Quint Friesell said. "If they place, great. I just want to see them improve their times, and then I'll be happy."
Friesell said he is especially looking for personal improvement from junior Darren Burke, who competes in the hurdles and high jump.
Soroco coach David Bruner, on the other hand, will have a full complement of athletes, including five players from the Steamboat baseball team, who are opting to compete in Glenwood Saturday instead of playing baseball in Craig.
Bruner said the meet will provide the Rams with big-school competition they don't get to see at a lot of the other track meets.
"It helps if we can get to half of the bigger meets," he said. "I think it helps our kids see some good competition."
The Rams and Tigers were supposed to compete in Craig on Thursday, but the track meet was canceled in the morning in anticipation of bad weather.
Despite the cancellation, Bruner said the Rams still have a full schedule ahead. Including Saturday, Soroco has three track meets in nine days. Bruner - who has high hopes for this year's team - said with a full team heading down to Glenwood, Saturday will be a benchmark for the Rams.
"We're going with everyone but one kid," he said. "Saturday should give us a good look at where we're at in the state."