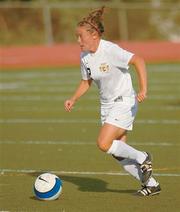 Steamboat Springs — Kelly Labor had to make the toughest decision of her life.
Stick with what worked - a comfortable starting position on a tight-knit Regis University women's soccer team that she helped lead to the Rocky Mountain Athletic Conference championship game - or take the risk of fulfilling a childhood dream.
"I know I have to do it," Labor said of her recent decision to leave Regis after her freshman year to play for the University of Nevada, Las Vegas. "Ever since I was 10, I had this dream of playing Division I. I thought DII would be a good fit, but during the season I had this hole of regret, asking, 'Can I give more and play at the next level?' I wouldn't be able to live with myself if I didn't try."
Labor put herself in prime recruiting position with a stunning freshman season at Regis. The Rangers went 11-7-4, and Labor led the team with 30 points (11 goals and 8 assists) on her way to earning a list of honors, including the National Soccer Coaches Association of America All-Midwest Region Second Team, RMAC Freshman of the Year, All-RMAC First Team and RMAC Player of the Week.
Now, Labor plans to join a talented Rebels squad that has won the Mountain West Conference the past three seasons, the past two under coach Katherine Mertz.
"I've never played for a girl coach before, so I was a little hesitant," Labor said of Mertz. "But she's hard-nosed and tough, and I thought she was really honest."
Looking at the universities of Colorado and Montana, Labor decided on UNLV after a January visit, gauging the team atmosphere and the prospect of immediate playing time in Mertz's 4-3-3.
"That gives me one more spot to play for up top," said Labor, a striker used to playing in a 4-4-2. "(Mertz's) team is fast, but even though I'm not as fast, I can bring the technical side."
Because of NCAA regulations, Mertz could not comment on Labor's role on the team until she either signs the financial aid forms for her partial scholarship or becomes fully admitted to the school. But she did say three of her team's leading goal scorers will graduate after the fall season.
For now, Labor plans to keep training with the Regis team she considers her family.
"I just want to see how far I can take it," Labor said. "I never had a dream except this one."
- To reach Dave Shively, call 871-4253
or e-mail dshively@steamboatpilot.com