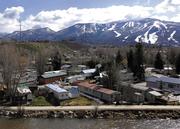 If you go
What: Meeting of the Steamboat Springs Planning Commission, to discuss design standards for "entry corridors" into Steamboat Springs and the city's revised inclusionary zoning ordinance
When: 6 p.m. today
Where: Centennial Hall, 124 10th St.
Contact: Call city planning offices at 871-8258 for more information
Steamboat Springs — After months of meetings and debate, a revised ordinance to amend Steamboat Springs' affordable housing policies is ready for public review.
The Steamboat Springs Planning Commission tonight will take the first crack at the city's revised inclusionary zoning and linkage ordinance, which will dictate affordable housing requirements for developers and regulate how the city provides workforce housing in the midst of booming local development and rapidly rising real estate prices. Tom Leeson, director of city planning services, prepared the ordinance with input from city staff, the Steamboat Springs City Council and housing consultant Melanie Rees, who met with the City Council several times in recent months.
Tonight's Planning Commission meeting begins at 6 p.m. at Centennial Hall on 10th Street. The meeting also includes the election of officers and a discussion about design standards proposed for the entryway corridors into Steamboat Springs along U.S. Highway 40.
Planning Commission chairwoman Kathi Meyer said the housing ordinance and the proposed design standards made for some hefty reading this week.
"There are two different substantial documents that we're going to be reviewing," she said, adding the housing ordinance is unfamiliar territory for the Planning Commission.
"We've never even had a hearing on it," she said.
The housing ordinance aims to ensure housing for residents earning less than 120 percent of Routt County's area median income which for a single person is $60,080. According to Elizabeth Black, executive director of the Yampa Valley Housing Authority, 80 percent of the county's AMI for a single person is $40,700. For a family of four, 100 percent of the AMI is $72,700.
A primary tool the ordinance uses to ensure affordable housing is "linkage," which requires residential and commercial developers to provide affordable housing for a percentage of the market-rate housing units, or employees, created by their new development.
The revised housing ordinance primarily requires 15 percent of the market-rate or employee housing units be designated as affordable housing, and does not allow developers to pay the city a fee in place of providing affordable units - except in the case of "fractional" units caused by the 15 percent calculation.
"I think the thing we have to stay focused on is the connection between commercial development, residential development and the resulting generation of jobs," Councilman Towny Anderson said. "There is a very definite connection and relationship there."
Council members acknowledged how that connection plays out will be determined as the revised housing ordinance is put into practice.
"You've got to start somewhere," Council President Susan Dellinger said. "There's nothing in an ordinance that can't be fixed."
Pending Planning Commission approval, the City Council is scheduled to hear a first reading of the housing ordinance Tuesday, and a second reading in early May.
Tonight's Planning Commission meeting is the first meeting for new commission member Rich Levy, who the City Council appointed to the commission in March. Levy is vice-president of the Community Alliance of the Yampa Valley and chairman of a local Sierra Club chapter. He replaces Tracy Barnett, program manager for Main Street Steamboat Springs.
- To reach Mike Lawrence, call 871-4203
or e-mail mlawrence@steamboatpilot.com