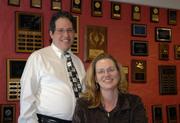 Junior qualifies for national forensics tournament
Steamboat Springs junior Ashley Lopez has qualified for the national forensics tournament June 17 to 22 in Wichita, Kan.
Lopez placed second at the national qualifier to automatically qualify in international extemporaneous speaking, her specialty.
Lopez also qualified as a freshman but had no goals of finishing well two years ago. Plans have changed this time around.
"My goal is to make quarterfinals, which is the top 30," Lopez said. "Once I do that, which I hope to do, then I can rethink my goals."
Lopez will be competing against 200 other high school students in the first six rounds of preliminary speeches. The field will then be narrowed to 60 students for more speeches. She said the competition at nationals is exceptional.
"It comes down to small things at nationals," Lopez said. "It's intense."
Lopez admits to being nervous before tournaments, but her nervousness usually subsides when she begins speaking. She is one of Colorado's top high school speakers on international affairs, so she is awaiting the next step this season.
Steamboat Springs — Longtime Steamboat Springs High School forensics coaches Marty and Shauna Lamansky have resigned from their positions.
"I cried when they told us," junior Ashley Lopez said.
Marty Lamansky, commonly called "M.L." by his forensics students, coached the Sailors for 27 years. He will remain a social studies and speech teacher at the high school.
Shauna Lamansky, commonly called "Mrs." by her forensics students, coached the Sailors for 18 years.
The husband and wife are stepping down together in what was a difficult decision, but one they made after a change in district policy, Shauna said.
In previous years, Shauna did not attend all the tournaments with Marty, which allowed Shauna to work weekends at her photography studio, Steele Images Studio, which is her primary job.
District policy no longer allowed Shauna to rotate tournaments with her husband, which hurt business and cost the couple money, she said.
Shauna said the studio will now be open full time, and she'll take a more active role in a philanthropic effort called Operation Smile.
Shauna said she and Marty plan to help the new forensics coach or coaches, and they will remain involved in their students' lives.
Lopez said the Lamanskys would be hard to replace for several reasons.
"First, they have experience with forensics," she said. "They've been part of a team. Second, we have a coach whose specialty is debate and (extemporaneous speaking) and one whose specialty is oratory. Third, for me personally, I like that they are no-nonsense coaches."
Shauna said coaching forensics was never just about preparing students for tournaments. It was about helping them conquer a fear of public speaking and giving students preparation for life, she said.
The Lamanskys hope the district will find a good replacement.
"When we started, we were fresh to the process," Shauna said.