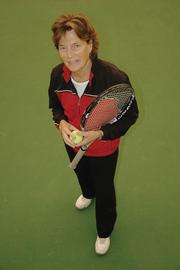 Denver — Steamboat Springs resident Carol Baily said when she was playing competitively she never dreamed of being inducted into the Colorado Sports Hall of Fame. But when the moment finally came Tuesday night, the idea of speaking in front of 800 people made it difficult to fully enjoy the moment.
"I was pretty nervous," Baily said Monday. "It was very special, but it's hard to focus when you have to get up there in front of all those people and all those famous athletes."
Several of those famous athletes, including Broncos owner Pat Bowlen, Rockies star Andres Galarraga, former NBA player Scott Wedman, basketball and football referee Ben Dreith and skier Hank Kashiwa, were also inducted into the Hall of Fame during the 43rd annual induction banquet Tuesday night at the Denver Marriott City Center.
If the size of the crowd wasn't enough to rattle Baily's nerves, she also had to speak in front of a crowd that included former Broncos quarterback John Elway - arguably the most beloved athlete in the history of the state.
"Oh, it was so exciting," Baily said. "It was really the culmination of an entire career. I will always remember how special it was, and I will always treasure the opportunity I had to meet people like John Elway and Pat Bowlen."
Pat Bowlen, who arrived fashionably late, hoped to sneak in without too much fanfare.
He just picked the wrong moment. Bowlen, one of six inductees into the Colorado Sports Hall of Fame on Tuesday night, showed up right after Elway.
The cameras quickly panned from Elway to Bowlen as Bowlen descended the escalator. But the ever-humble Bowlen didn't have much to say on his behalf.
"It's a huge honor," Bowlen said of the induction. "To get into the Colorado Hall of Fame is the ultimate, basically."
Baily, one of two inductees with Steamboat ties, appeared in the Australian and U.S. Opens and was once ranked 51st in the world in singles in 1980. She already is a member of the Colorado Tennis Hall of Fame and the Colorado Sportswomen Hall of Fame. Kashiwa, another Steamboat favorite, won the U.S. national ski championships in 1969 and also competed in the 1972 Winter Olympics for the U.S. Ski Team.
Wedman was the sixth overall pick in the 1974 NBA draft out of the University of Colorado. He won two championships (1984 and '86) with the Boston Celtics. Dreith officiated two Super Bowls and eight NFL championship games.
On Wednesday, Baily said she will always remember Tuesday night and the feeling that overwhelmed her after the banquet when she posed for a photograph with about 40 people from Steamboat Springs who traveled to Denver to witness the induction ceremony.
"The evening was filled with so many special memories," Baily said. "But I think I will always remeber standing up there, surrounded by my friends. That was very special to me."
- Pilot & Today sports editor
John F. Russell contributed to this story.