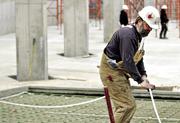 Steamboat Springs — Construction will drastically change Steamboat Springs in the coming years.
On Wednesday, members of the construction, planning, building and business sectors of Routt County came together for a luncheon to discuss the 2007 construction season, which is expected to accelerate as the weather warms and the ground dries.
Carl Dunham, Routt County Regional Building Department manager, said his department could review plans for an estimated 3.5 million square feet of new construction within Steamboat Springs, with about 3 million of that in the mountain area.
Most of the projects are multi-phase projects, so they wouldn't be completed this year. Mountain-area projects include Wildhorse Meadows, One Steamboat Place and the Village at Steamboat. Downtown projects include Alpenglow, Howelsen Place and The Olympian.
Outside of Steamboat city limits, but within Routt County, even more projects are slated. Construction in Stagecoach, Marabou and Hayden adds to the number of square feet of new construction. In Stagecoach, Dunham said there are 800 building lots not factored into current plans because they have not been platted yet.
"It's unlike anything I've ever seen in 30 years," Dunham said of the potential construction boom in Routt County in the coming years.
Wednesday's presentation and discussion at Rex's American Grill & Bar was the first in a five-part series about workforce issues in Routt County. The Steamboat Springs Chamber Economic Development Council is presenting the series, which began with an overview of all construction projects on the table to give the community a chance to see just how drastically Routt County, specifically Steamboat, is expected to be impacted by the construction boom.
Elizabeth Black, Executive Director of the Yampa Valley Housing Authority, encouraged all contractors and developers present Tuesday to brainstorm ideas about how to minimize the impact on Steamboat.
"I encourage you to work together to coordinate workforce housing and transportation," Black said, adding she will be a panelist at the May 9 presentation on workforce challenges facing Steamboat businesses including construction companies.
In addition to Dunham, Tuesday's panelists were Toby Keeton, city construction site inspector; Steven Douglass, managing director of Green Courte Partners who is working with Jim Cook on downtown projects; Joe Kracum, project manager for the base area redevelopment; TCD contractor Joe Jones; and Todd Ficken, project manager for the Steamboat Springs School District projects.
All expressed a desire to keep the community's businesses and residents informed as the projects progress to help alleviate problems that may arise during construction.
Kracum said weekly meetings are planned for 8:30 a.m. Fridays at Slopeside Grill for businesses and residents affected by the base area redevelopment. Construction begins Monday.
"A huge part of mitigation is letting people know what is going on," Kracum said.
Contractors with downtown projects were encouraged to have similar conversations, and Tracy Barnett of Main Street Steamboat Springs said she'd work on making that happen.
Ficken said everyone should be prepared for construction's ef-
fects. Parking will be affected. Traffic will get worse. The need for housing will increase because Front Range employees will be moving to Steamboat for the projects. He said the school district wants to minimize the effects as much as possible, but avoiding them likely will be impossible.
Douglass said projects accessed by Lincoln Avenue likely will affect downtown, but crews are cleaning up the sites and hope to drastically limit the number of parking spaces and the amount of street access they restrict.
"We really want our projects to set the standard by which all projects are judged," Douglass said.