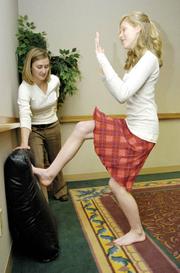 Steamboat Springs — Charell Ondrejka changed her mind about becoming an actress after attending Tuesday's Girls to Women Conference with 134 other eighth-grade girls.
"I didn't make enough money, and I wanted a brand-new car and expensive clothes," she said after completing a financial planning activity called Reality Bytes. "I learned how to save money though."
The girls - from five Routt County schools and North Park - each attended three of 28 workshops in which they learned about relationships, self-worth, making healthy choices, financial planning and career opportunities. The conference was held at Steamboat Sheraton Hotel.
"I like how we got to sit at tables with other people we wouldn't have sat with," Cheyenne Hayes said. "It was an opportunity to meet other people, which was really exciting."
Linda Jensen-Hamlet started the conference nine years ago, with the help of The Women's Foundation of Colorado, to help young women realize their potential.
"We read a study about eighth-grade girls losing their self-esteem," she said. "And we wanted to give them an opportunity to have an all-girls day where they can meet with mature women in the community to give them aspirations and to create educational goals."
More than 100 women volunteered to speak at the workshops and organize and facilitate the event.
"There is an amazing amount of hidden women in our community that are very successful and open to share," said Julie Jordan, who put the conference's program together. "We want to encourage girls to follow their passions but realize there are things along the way to address, like education and lifestyle choices."
Soroco guidance counselor Lisa Omori has attended the conference for five years, and every year she witnesses the infectious inspiration.
"Seeing female adults doing whatever they want with their lives opens all kinds of doors," she said. "I still have students in high school who refer back to the workshop presenters when they look for someone for a job shadow."
Facilities coordinator Becky Lamb joined the board of directors of New Frontiers for Girls and Women after hearing her daughter's experience at the conference.
She hopes other girls get as much out of it as her daughter did.
"Remember why we are doing this whole day. It really is about you and your future," Gail Kellogg, Girls to Women event chairwoman, said during the closing presentation. "We want you to feel like you have a sense of determination and self-confidence. Feel empowered to be yourself and truly shoot for the moon."
- To reach Allison Plean, call 871-4204
or e-mail aplean@steamboatpilot.com