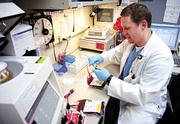 Past Event
Thursday, April 12, 2007, 12:30 p.m. to 6 p.m.
Yampa Valley Medical Center, 1024 Central Park Drive, Steamboat Springs
Not available
Steamboat Springs — Donating blood usually takes less than one hour, but the results can last a lifetime.
Currently, there is a shortage of blood on reserve in Colorado and in Steamboat Springs, which is serviced by blood banks such as the Bonfils Blood Center in Denver.
On Thursday, Bonfils will be in Steamboat for a blood drive from 12:30 to 6 p.m. at Yampa Valley Medical Center.
"Each person who donates has a potential to save up to three lives," said Barbara Hughes, a volunteer with the YVMC Auxiliary, which helps work and sponsor the blood drive. "There really is a shortage. If people don't step up and do it, it may not be there for a friend, a neighbor or you."
An estimated 60 percent of Bonfils blood is provided through community drives such as Thursday's drive in Steamboat.
Blood has a shelf life of 42 days. In Steamboat, blood lasts for fewer than 42 days when travel time from Denver to Northwest Colorado is factored in, said James Wirta, the blood bank manager in the hospital's laboratory.
Blood goes through a series of rigorous tests before it is deemed safe for transfusion.
"People might very well be surprised how much blood is used at the hospital," Wirta said. "We usually use between 20 to 50 units a month, so that's 300 to 400 units a year just at YVMC. Just think about how much those huge hospitals use."
Blood is used for patients with anemia, bleeding ulcers, traumatic injuries and basic surgeries, among other situations.
"One important point to make is there is no substitute for blood," Wirta said. "If a person needs blood, they need blood. There are no options in a lot of situations. You can give a blood booster, but it's not going to help in a traumatic situation."
Bonfils spokeswoman Julie Scott estimates Bonfils has a six-day supply of blood on hand for this region. Bonfils typically likes to have a seven- to 10-day supply in case of unforeseen events.
And it isn't just the rare blood types Bonfils needs. The most common blood types are the ones more frequently used in transfusions, making a supply of that blood necessary. Hughes isn't discouraging anyone from coming to the blood drive Thursday. Paperwork will need to be filled out before donating to determine whether a person is eligible to donate. Strict guidelines are followed, and people need to be honest when answering questions.
In general, people should be in good health to give blood.
Anyone who has gotten a tattoo in the past 12 months likely won't be able to donate.
Interested donors are asked to eat a healthy meal four hours prior to donation and drink lots of water before coming to the hospital. Domino's Pizza, City Market and Safeway will be providing volunteers goodies to eat after they donate.
Donation time should take no longer than an hour.
People can make appointments to give blood by calling Tosia and Bill Sauter at 870-1495. People are encouraged to make appointments today or by mid-morning Thursday. Appointments are recommended, but walk-ins, especially after 2 p.m., are welcome, Hughes said.