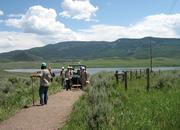 Steamboat Springs — Traditionally, the young adults who opt for a summer of hard manual labor with the Rocky Mountain Youth Corps give back to the country through conservation work in Colorado's backcountry.
There has been one change this summer, and RMYC development director Sheila Wright couldn't be more excited.
At the end of May, the RMYC is sending a crew of young men and women to Bay St. Louis, Miss., to join in the national effort to rebuild areas of Mississippi and Louisiana still recovering from the devastation of Hurricane Katrina.
After the crew's four weeks in Mississippi, they will return to Steamboat and continue a summer of conservation work in the Rocky Mountains.
"What an amazing summer," Wright said.
The young men and women heading to the Gulf Coast will be selected from throughout the country, and funding for their efforts already has been secured, but Wright is hoping the Steamboat Springs construction community can help the RMYC train the young men and women who will be responsible for assisting in the construction of homes.
"We need help from the community," Wright said. "We can build trails, but we can't build homes."
The workers will need to learn basic carpentry skills, basic landscaping, basic tool orientation, chain saw safety, hazard awareness, homebuilding, interior plumbing, basic electrical writing, flooring, mold mitigation and personal safety, basic worksite safety, plaster and drywall installation and repair and weatherization.
The men and women who are selected to split their summer between the South and the Rocky Mountains will receive $1,000 through the AmeriCorps Education Award.
The money can be used toward educational expenses such as student loans of further education.
The RMYC still is scheduled to have crews work in the Colorado backcountry the entire summer. This year's targeted areas are Mount Evans and Mount Massive.
- To reach Melinda Mawdsley, call 871-4208 or e-mail mmawdsley@steamboatpilot.com