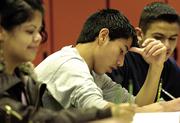 School facts
The Steamboat Springs School District is the state's highest performing district with student populations between 1,500 and 3,000. Superintendent Donna Howell presented the statewide academic statistics to the School Board at its April 2 meeting.
There are 22 districts in the state Steamboat is compared to but none scored higher than Steamboat in math or writing. Only one district scored higher than Steamboat in reading. The scores were based on Colorado Student Assessment Program results from 2005-06.
Between 2004-05 and 05-06, Steamboat students increased their test scores by 271.2 points, which was more than 20 points better than the state average.
"We are doing very, very well," Howell said. "We are committed to continuous improvement."
Steamboat Springs — Lupe Macias always is up for a challenge, so it should come as no surprise that the Hayden junior, less than one year after moving to the United States from Ecuador, sat down with a pencil and a limited understanding of English to take the ACT test last spring.
"It didn't go very well," Macias admitted. "I didn't even know what it was. I just took it because everyone else did."
Although the ACT, a standardized test used for college entrance, is optional, tests such as the Colorado Student Assessment Program or the Colorado English Language Assessment are not. Students of all ages take tests in English each year, despite their inability to read and understand English or their limited knowledge of the language.
Consequently, a majority of the English Language Learners score poorly and often hurt overall school performance on accountability report cards.
"That's where the gray area is," said Cathy Girard, ELL teacher at Steamboat Springs Middle School. "This year, I have one student who has been here less than a year and had to take the entire CSAP. This poor little girl tried so hard and filled in every answer and wrote something on every line."
The tests
This was the first year for established CELA tests, which were created so the state could assess ELL students. The test is in English, but it measures non-English speakers' proficiency in reading, writing, speaking and listening. It is not as difficult as the CSAPs, Girard said, so she believes the CELA tests are accurate for upper elementary, middle school and high school ELL students.
The CELAs were administered in February, and Girard is waiting to see the results.
The CSAPs are Colorado's primary assessment tool, and the measuring stick the federal government uses to gauge whether a district made Adequate Yearly Progress as mandated by the No Child Left Behind Act.
CSAPs are ongoing in Routt County's schools. Children in grades 3 through 10 take the tests.
For all intensive purposes, every child in a public school system in Colorado is strongly encouraged to take the CSAP. The children who don't take the CSAPs count as "no scores." The ELL children and other children who can't finish the tests often receive "no scores" as well.
Consequently, a district's scores may be skewed because a percentage of its students didn't score well because they speak limited English. Some education professionals question the validity of using a blanket assessment for all students as a way to grade districts.
Jamie Fasteau of Alliance 4 Excellent Education, an advocacy organization in Washington, D.C., said the original intentions of No Child Left Behind are positive. But lost in the hope of educating all students, including ELL students, was the thought that all students could essentially be assessed the same way.
"There is no one-size-fits-all to educating these kids," said Fasteau of ELL students. "If you are testing them in English in a content area and their English isn't good, you aren't necessarily testing them in that content area. Frankly, more and better assessments need to be developed to truly measure where these kids are.
"We need to get away from the one-size-fits-all approach so their actual proficiency can be measured. (Tests such as CSAPs) don't assess remotely where they are."
Hard numbers
The 2006-07 ELL population in Steamboat is 90 students based on October student count. Of those 90 students, 83 took the CELA test this year. In 2005-06, there were 65 ELL students in the district with 59 taking the CELA test.
This year's results should show if progress is being made or not, said Girard, particularly for those students who have been with the district for more than a year.
The CSAP evidence, on the other hand, is inclusive at this point. Starting in the 2002-03 school year, nine ELL students were tested in Steamboat in the reading portion with four students testing partially proficient, three testing proficient, one testing unsatisfactory and one student with a "no score."
By comparison, 43 ELL students were tested in CSAPs last year with 12 being partially proficient and eight being proficient in reading. Twelve reading scores didn't count.
The Steamboat Springs School District breaks up results further. District administrators and teachers want to know how ELL students who have been with the district for at least one year are scoring to see how those students are progressing.
Slightly more than half of the ELL students tested last year have been with the district for at least a year. In math, where English is important but not a hindrance to understanding concepts, there are three ELL students who have been here for at least one year who are advanced, but a majority of ELL students are partially proficient or not proficient in any content area tested by CSAP.
A limited understanding of English makes test taking in English more difficult. And, by most accounts, the CSAPs are difficult tests because they are long and aren't multiple-choice.
But school districts look at results. They have to, said Steamboat Springs Middle School principal Tim Bishop.
"We have to be careful how we present the information to kids," he said. "We can't label kids and mark kids. We have to use the data in a non-threatening way and let them know we understand your language disability and take the pressure off kids."
Example of success
Pueblo City Schools, a public school district servicing 17,000 students with 36 schools, has been recognized federally for its progress in evening the scores between Caucasian students and minority populations and affluent children with children receiving free and reduced lunch.
John Brainard, executive director for assessment of math and science in Pueblo City Schools, estimates 67 percent of its students are minority, including a student population that is 58 or 59 percent Hispanic.
Of the 67 percent who are minority, 15 to 20 percent are ELL students, a substantially larger number than in Steamboat, which has fewer than 3,000 students and an ELL population less than 100.
"I have to be honest, we are far more interested in the story behind the CSAP score," Brainard said. "I make a very big point that we are not going to use a consequence for the school and kids in the same sentence."
He added the school makes the call whether to make an ELL student take the CSAP. All students are accounted for, but Brainard said Pueblo City Schools is more willing to have an invalidated test than to make an ELL child struggle through CSAPs. During the time that the child would have been taking CSAPs, he or she is instead in a classroom.
"There isn't an adult in my district who has ever gotten a letter from the state of Colorado that says they are unsatisfactory," Brainard said. "That's exactly what the young men and women are getting when they get those reports from the state of Colorado. Each student receives a report. If there is a strength here in Pueblo, if there is a success for us, this is about what the kids do. Everything else is second."
Brainard said Pueblo has schools that haven't received the high and excellent marks parents are accustomed to seeing in Steamboat's schools, but Brainard said he is less concerned about the immediate satisfaction of a school rating than he is about making sure every child is eventually proficient to advanced.
"The kids are the indicator of success, not the measure of failure," Brainard said. "We have some students, who no fault of their own, will take the CSAP and receive an unsatisfactory score. If that's all we looked at, shame on us."
Steamboat's schools
By all accounts, the ELL population in Steamboat is expected to increase.
Educating the children of all Steamboat residents is important to the Steamboat Springs School District, said Girard.
Girard, Bishop and Steamboat Springs Superintendent Donna Howell echo Brainard's words. CSAP scores are used to measure growth, but they are far from the only tool Steamboat uses to track its students.
"It's unfortunate their scores are put into our entire school's," Girard said. "It reflects on the teacher, the school and the district when they've been here less than a year."
Instead of worrying about the results, Girard takes delight in watching her students finally learn to talk and write sentences. That is an example of tangible progress.
Nearly one year after sitting down to take the ACT, Macias, now a senior, speaks English, something she could not do when she moved to Hayden in July 2005. She will leave Hayden High School able to speak Spanish and English. She even speaks a little French.
"I know all the advantages I might have being bilingual," Macias said. "Even last year, I got into trouble from teachers because I talked too much. I was excited I could speak English with people."