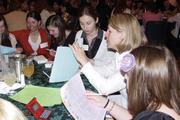 Steamboat Springs — Even though Paula Ninger had never thought about getting involved in public speaking, she joined the speech team at Steamboat Springs High School this year.
Ninger was inspired to try new things after attending the Girls to Women event last year.
"It just helped me to see that I should keep my options open," she said. "And look to see what's out there."
Eighth-graders from five Routt County schools and North Park will attend Tuesday's conference that is sponsored by New Frontiers for Girls and Women.
"Our mission is to help young women become self sufficient in their lives," said Gail Kellogg, board chair and Girls to Women event chair. "And (the event) is meant to expose them to things that perhaps they don't get exposed to in everyday life."
The schedule for the day includes three sessions where the girls will choose to attend different workshops on career opportunities, relationships, self worth and making healthy choices.
Sunny Lodwick was chosen to be the inspirational keynote speaker because of her success in the roles of being a professional and a mother.
"Women do have a challenge in trying to accomplish their goals and manage their lives so that they can enjoy a family life as well," Kellogg said. "She seems to be doing it all."
The students will complete an exercise called Reality Bytes, which helps them understand the correlation between their lives and career choices and the economic implications of them.
"One of the attributes women should develop is to have a sense of money and career as well as other things in life," Kellogg said. "So they are able to be a full person and not totally dependent on others."
One of the underlying issues of being successful in life is having self-confidence, which this event helps to encourage.
"Self confidence is an overarching issue in what makes people happy," Kellogg said. "And you get self confidence by making a decision and following through and accomplishing something. The more you do, the more you think you can do."
Last year's Girls to Women event helped Christine Wolfe understand the impact she can make in her lifetime.
"They had a lot of really cool seminars that I think showed how women can be prevalent in society even if you are young," she said. "We are important to society and can do a lot of stuff."
Ninger received some good advice about entering high school and has a suggestion for eighth-graders who will attend Tuesday's conference.
"Just be yourself and not really care so much about what other people think," she said. "And keep an open mind on what you do with your life. Go to the sessions about careers that you wouldn't expect you would look into."
- To reach Allison Plean, call 871-4204
or e-mail aplean@steamboatpilot.com