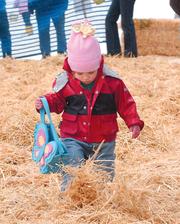 Steamboat Springs — The 32nd annual City of Steamboat Springs Easter Egg Hunt is at 11 a.m. today at the base of the chairlift at Howelsen Hill.
The hunt will feature two age groups - one for children ages 3 to 6 and the other for children ages 6 to 9 - hunting for more than 2,000 eggs filled with candy.
The event also will feature the free family photos with the Easter Bunny as well as balloons for the children.
The event will last until all of the eggs are found and everyone who wants a picture with the Easter Bunny has taken one.
The Steamboat Springs Winter Sports Club will hold an Easter Egg Treasure Hunt at the Steamboat Springs Ski Area.
Registration for the Treasure Hunt begins at 8:15 a.m. Sunday at the base of the Ski Area. Cost for the event is $5 with all proceeds going to the Winter Sports Club.
After participants pay the $5, they will be given the first clue. Four other clues are on the mountain. Each time a person gets a clue they have one more chance to earn a prize in the drawing at the end of the day.
"The clues are in locations that drive you around the mountain," Winter Sports Club executive director Rick DeVos said. "They're all accessible as long as you can ski blue runs."
The drawing at the end of the day will feature two ski passes - one adult and one youth - for the 2007-08 season as well as ski equipment and clothing. Participants don't have to be present to win the drawing.
The Ski Area will also hold an Easter Sunrise Service at the top of the Gondola. The Gondola will start running at 6 a.m. Sunday with the service starting at 6:45 a.m. Space for the service is limited to the first 500 people.
The Ski Area will have an Easter brunch at Hazie's from 10 a.m. to 1 p.m. The Cabin inside the Steamboat Grand will also have an Easter brunch.
- To reach Luke Graham, call 871-4229
or e-mail lgraham@steamboatpilot.com