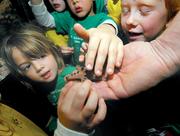 Steamboat Springs — If Gavin Graham's dream of a 600-million gallon aquarium doesn't pan out, he may have a future as a teacher.
Graham, who owns Tropical Rockies - a reptile and fish shop - spent the better part of his day off Thursday teaching kindergartners from Soda Creek Elementary some of the basics of ocean life and ocean geology.
The shop doubles as a public aquarium and rescue facility. Graham also gives free educational tours to schools around the area.
"I give free field trips to all of the kids in Northwest Colorado," Graham said before a group of more than 25 kindergartners descended into the aquarium. "The focus (Thursday) is on coral reefs."
Graham has hosted groups from Lowell Whiteman Primary School, Steamboat Springs Montessori and Horizons Spec-ialized Services.
After a brief tour of his shop, Graham invited the children into the "Relaxation Reef Room," to observe coral and fish in their natural habitat.
After the Reef Room, Gra-ham fed several eels and brought out a red tailed boa.
"I do this so I can feel like a real local and give back to the community," Graham said. "This is what I'll do until I hopefully can get an aquarium."
The field trip, which took about 45 minutes, aided the kindergartners in their study of the ocean, its geology and the many creatures of the sea.
"They're all pretty excited," said kindergarten teacher Sharon Clementson, who admitted she learned quite a bit herself. "They'll go back and write about what they saw. It's amazing to see what they'll remember."
Graham hopes to build a geothermal and solar powered public aquarium in the future. For now, he's happy to educate youngsters on something a lot of them haven't seen.
"The big goal is the aquarium," he said. "But until then, I'll keep doing the field trips."
- To reach Luke Graham, call 871-4229
or e-mail lgraham@steamboatpilot.com