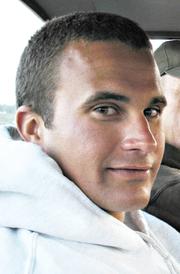 Steamboat Springs — For Steamboat Springs ski patroller Dean "Cody" St. John, life was about working hard, playing hard and loving those dearest to him with everything he had.
For 29 years, that was the philosophy he lived by. That philosophy eventually guided St. John's adventurous spirit from his home in Maryland to the slopes of Colorado's Rocky Mountains to snowboard, where he became a ski patroller with Steamboat Ski and Resort Corp.
St. John sustained critical, life-threatening injuries Monday morning during a car accident he was involved in on Colorado Highway 127, three miles south of the Wyoming border. He is not expected to recover.
Colorado State Patrol Trooper Scott Fischer said St. John was driving north when he apparently lost control of his 1991 Honda Accord on a patch of snow and slush and collided with a southbound logging truck. The driver of the logging truck tried to avoid St. John, but could not, he said.
St. John was wearing his seatbelt at the time of the accident, Fischer said.
On Thursday, from Medical Center of the Rockies in Loveland, St. John's friends and family members remembered St. John's infectious and warming personality.
"If you'd had met him, you'd have been in love," said Craig Lewis, the father of St. John's girlfriend, Katrene Lewis.
"I instantly fell in love with the guy," he said. "I have a wife who is always telling me to be more sensitive, and that's who was teaching me how to be that. He was a man's man. He was the most amazing guy I'd ever met."
Lewis said his family, who lives in Cheyenne, Wyo., immediately liked Cody after his daughter brought him home.
"Boy, she was in love with this guy," he said. "I can't blame her. He was one of a kind. This was the guy she was going to marry."
Matt Fordyce grew up with Cody after Cody's family moved to Maryland when he was in seventh grade. Several of Cody's Maryland friends moved to Summit County, which eventually led Cody to Steamboat Springs.
Cody was named the state's Ski Patroller of the Year in 2006, the first snowboarder to ever receive the honor.
"We're essentially brothers," Fordyce said. "He's my second family. I couldn't ask for a better friend. I'm grateful he's part of who I am."
Mike Lane, spokesman for Ski Corp., said St. John was an incredible employee and person.
"Cody definitely had a zeal for his profession, and that came through in everyone he met and dealt with on the mountain," he said. "Our thoughts and prayers are with Cody, his family, his friends. He is an exceptionally passionate individual."
-To reach Alexis DeLaCruz, call 871-4234
or e-mail adelacruz@steamboatpilot.com