Under Construction
Read more about how
downtown and base-area construction
is transforming Steamboat Springs.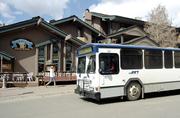 Steamboat Springs — Don't leave your skis and snowboards behind after the Steamboat Ski Area closes.
On April 16, one day after the end of the ski season, construction on base-area improvements begins.
Construction is scheduled to last from mid-April through October. Initial projects include sewer and water upgrades and the development of 300 feet of roadway on Ski Time Square Drive.
"We want to regenerate interest in the base area," said Jim Weber, public works director for the city.
City buses will not be operating in Ski Time Square during construction, but city buses will be stopping at the Gondola Transit Center and at the corner of Burgess Creek Road and Mount Werner Circle.
Other construction projects this summer include the creation of a new transit stop at Ski Time Square, the creation of walkways to the Gondola Transit Center and the Torian Plum area and the replacement of the Burgess Creek culvert to provide for the future daylighting of Burgess Creek.
Duckles Construction of Steamboat will be doing the construction work.
Adcon of Fort Collins will be creating the wayfinding and signing system intended to provide better directions to and through the base area. The first phase of the wayfinding and sign program will be initiated this year.
Access to businesses and residences near the ski area and Ski Time Square will be provided through the construction zones throughout the project.
"A condition of the bidding process was to enable businesses to stay open," Weber said.
The Base Area Improvements Project is the first in a series of construction projects recommended by the Urban Renewal Authority Advisory Committee and the Steamboat Springs Redevelopment Authority.
The Redevelopment Auth-ority has proposed a budget of more than $7.2 million to finance the projects.
The City Council implemented an Urban Renewal Authority at the base area in 2005 as a special taxation district to raise money for public improvements in the area. The URA is expected to raise $420,000 in sales tax revenues and $260,000 in property tax revenues in 2007.
A weekly meeting will be held at 8:30 a.m. on Fridays at Slopeside Grill throughout the construction process to provide businesses and residents with information on a weekly basis and to coordinate construction activity in the base area.
Deputy City Manager Wendy DuBord encouraged anyone with questions or complaints throughout the construction process to contact program coordinators John Eastman at 871-8275 or Joe Kracum at (970)-379-3959.
- To reach Melinda Mawdsley, call 871-4208 or e-mail mmawdsley@steamboatpilot.com