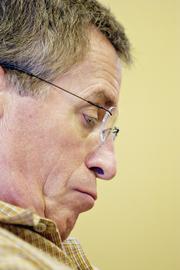 Steamboat Springs — The following are direct quotes from a series of e-mail exchanges between former Strawberry Park Elementary School and current School Board member John DeVincentis and Joby McGowan, a teacher in Mercer Island, Wash., about former Steamboat Springs Superintendent Cyndy Simms.
"She is absolutely a liar-so much so that I would say it's almost pathological, if she in fact isn't? NEVER trust her." -Aug. 27, 2004
"She lies a lot. Be ready for that! And call her on every one! DO NOT let her get away with that. BUT do it calmly and politely even though that was one of the hardest things for me." -Aug. 27, 2004
"Your union would want to pay attention to all of the executive sessions that Cyndy has with the Board. Even though you don't have access to the executive sessions, you may want to be prepared and try to figure out how to 'listen in.'"
"Go to her house and 'trash it.' Just kidding!! The sloppiest kiss that I could think of giving her would be from about three feet away, but then that wouldn't be a kiss I guess. Maybe I could call it that." -Sept. 2, 2004
"Yes, the throes of passion!! What a terrible image! Gross! I was just thinking about anyone going out with her - at all, let alone that!!" -Sept. 27, 2004
"The board president who was an IDIOT (gone now - one of Cyndy's biggest supporters and a BAST---) was banging the gavel and yelling 'You're out of order!! You're out of order!!' I went right on and it was all printed in the newspaper." -Oct. 6, 2004
"She is an idiot (I have many other words that I wouldn't mind using, but:)." -Oct. 7, 2004
"I have studied serial killers and psychopaths. I have learned that about 25% of people are psychopaths, but certainly a small number of those serial killers. BUT one thing that particularly stands out in my reading was stated that it is very bad if you have a psychopath as a boss. Thus my point with Cyndy. If you want, I'll look up and send you the descriptors. She fits nearly every one of them - which is very scary." -Oct. 14, 2004
"I wish I could have ended her career, but once again the game of 'Old Maid' (which she is) came to mind soooo : I made the intelligent move and told your suckered board members that she was great. I could tell right away what kind of people they were. I was not impressed with them either." -Oct. 14, 2004
"One of the staff made me a Cyndy voodoo doll. Do you believe in voodoo? Maybe a collective group of people with voodoo doll energy could end her career there." -Oct. 14, 2004
"NEVER GO TO EXECUTIVE SESSION. HAVE EVERYTHING PUBLIC!!" -Dec. 12, 2004
"How is Cammie, her daughter, doing over there? We've always been concerned about Cammie because Cyndy has always been a missing mom." -Dec. 13, 2004
"Cammi should be a sophomore now. Several of us have wondered about how she would be doing since her mother is never home. She was pretty much put on the back burner with her husband. Seemed like they were probably better off without her around. I can't imagine being married to her. I would have been arrested for battering and abuse!!" -Dec. 13, 2004
"I know one thing about Cyndy, she will NEVER make amends with you or anyone else who crosses her. She is a B----! Be aware she can raise her ugly (and I do mean ugly) head again." -Dec. 14, 2004
"Here our county was identified by license plates that started with WZ. She had a vanity plate that was WZ KIDS. Thought that meant she liked kids, I guess, although that is fairly far removed from her mind." -May 23, 2005
"It is getting very political here. Go on to Steamboat Pilot: It's the article about 'Havener Resigning.' It's always interesting here. It's no better than when Cyndy was here." -May 23, 2005