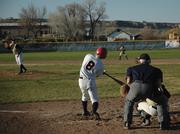 Craig — When it comes down to it, the Steamboat Springs baseball team had everything it needed in Thursday's doubleheader against Battle Mountain.
The Sailors got two wins - 10-0 and 15-5 - to keep them in contention for playoff baseball.
The whole lineup hit the ball well, including 11 hits from the first four hitters.
And the Sailors' (3-7 overall, 2-4 in league play) pitching sets up well for Saturday's doubleheader against Glenwood Springs after two dominating performances from freshmen.
"We needed two wins, and we got two wins," Steamboat manager Dave Roy said. "That's really the bottom line."
In the first game, pitcher Philip Riley was as precise as he could be. The freshman tossed five innings of shutout baseball. He threw only 44 pitches, gave up only two hits and struck out three.
"The main thing was he threw strikes," Roy said.
Riley got all the help he needed from a Sailors lineup that pounded out 11 hits in the first game. The first game was capped off by a three-run walkoff homerun from senior Aaron Hornstein in the bottom of the fifth inning.
"I just swung the bat," Hornstein said. "I wasn't thinking about anything. I was just swinging the bat."
In the nightcap, the Sailors fell behind, 5-2, through two innings.
But, just like the first game, a freshman - this time Alex Estes - stepped up and shut down the Huskies. Estes came on in the second inning and limited Battle Mountain (0-7, 0-6) to two hits, one run (unearned) and struck out seven.
For Estes, it was his second time pitching in a varsity contest.
"I knew I needed to place the ball so our team could have a chance," Estes said. "I was a little nervous, but I just started hitting my spots."
The Sailors cut the Huskies lead to 5-4 after the third inning, before exploding in the fifth and sixth innings.
Brian Aragon led off the fifth with a walk before Alex Wood doubled him in. Cody Harris reached on an error, scoring Wood, and Aaron Hornstein hit his second homerun of the game - this time a two-run shot.
Then in the sixth, Aragon hit a three-run home run, Wood picked up his fourth RBI of the game and Harris knocked in a couple of RBI.
"It was nice with everyone hitting," Hornstein said. "I hope we can keep it up and have a shot at the playoffs."