Scott Stanford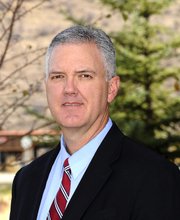 Scott Stanford is general manager of the Steamboat Pilot & Today. Call him at 970-871-4202 or email
sstanford@SteamboatToday.com
Steamboat Springs — It's that time of year when the newspaper starts looking for new Editorial Board members.
Former publisher Suzanne Schlicht - now general manager for WorldWest LLC - came up with the idea of adding community members to our Editorial Board after attending an American Press Institute workshop during which the concept was discussed in spring 2003.
We researched how other newspapers did it and came up with a plan - we would pick two community representatives to serve four-month terms on the board. The community representatives would join four newspaper members and would have equal voting privileges. We started in the fall of 2003 with Paula Cooper Black and Jennifer Schubert-Akin.
I think the addition of community representatives to the Editorial Board has been one of the best moves we have made in the six years I have been with the newspaper. It accomplished several things:
- It gave stronger structure to the formulation of the Our View editorials that appear on Wednesdays and Sundays in the newspaper.
- It opened the process of formulating that opinion to the outside world. Most of our Editorial Board participants have spoken highly of the experience and shared that with others in the community.
- It opened our eyes to issues that do - and do not - resonate with the community. A newspaper can be an insular environment where we can convince ourselves that a new City Council ordinance or school district dispute is the most important thing in the community. Often, what's really important is something unrelated entirely to government.
- Most of all, it has given me and other newspaper staff members the chance to get to know several people who care about our community and the issues that affect it. I like talking with those people, and many of them call me from time to time to share news tips or offer a possible editorial perspective.
Here is the full list of people who have served on the Editorial Board: Paula Cooper Black, Jennifer Schubert-Akin, Diana Sutton, Keith Skytta, Lance Eldridge, Jim Swiggart, John Worden, Mike Skov, Tim Selby, C.J. Mucklow, Vicky Hanna, Roberta Gill, Rick Akin, Molly Fetcher, Julie Taulman, Mike Forney, Scott Gordon, Paul Sachs, Kristi Brown and Wade Gebhardt. Our current representatives are Ann Ross and Patricia Creekmore.
Tom Ross is the only newspaper member to serve continuously on the board since 2003. Other newspaper members have included Schlicht, Melissa Roddy, Brent Boyer, Bryna Larsen, Michael Smith and me. Larsen, Ross, Boyer and I are the current newspaper members on the board.
We have had people from all walks of life on the board - Republicans, Democrats and even a Libertarian. We've had longtime locals and newcomers, lawyers, bankers, Realtors, retirees and restaurateurs. The only requirements to serve on the board are a strong opinion and the ability to meet at 10 a.m. Tuesdays.
If you're interested in serving, write up why you would be a good candidate for the board. E-mail me or drop by the office. We're looking for people to serve May 1 through Aug. 31.
Scott Stanford's From the Editor column appears Thursdays in Steamboat Today. Visit his blog at steamboatpilot.com/stanford, call him at 871-4221 or e-mail editor@steamboatpilot.com