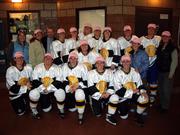 Steamboat Springs' Johnny Spillane is resting and rehabbing his right shoulder after having surgery to repair a broken bone with cadavers. The former Nordic combined sprint world champion plans to be "ready to roll" for next season.
Spillane, a 26-year-old, three-time Olympian, underwent the surgery Monday at The Orthopedic Surgery Hospital in Salt Lake City. He injured it during dryland training in February, on the eve of the World Championships in Japan, and eventually had to stop his World Cup season a week early because of the pain.
He has to keep his right arm in a sling for a month or more, depending on recovery, he said, and then will move through the next stage of rehab. "I'll be extra patient with this; I want it to heal extra strong," he said.
Doctor Michael Metcalf operated on Spillane, repairing the broken coracoid process, reattaching it to his shoulder blade, sewing a cadaver graft into the ligaments to provide stability to the collarbone and shoulder.
"We're hard on our shoulders, and surgery last year apparently had weakened it," Spillane explained. "My arm and shoulder have to be completely supported all the time. It's been so frustrating these last couple of years, but I'll be ready to roll next season, and I'm looking for a few years without injuries."
- courtesy U.S. Ski Team
Silverwolves win in WACH finals, Chix finish fifth
The Colorado Springs Silverwolves women's hockey team redeemed itself from last year's performance by beating the DU Pioneers, 4-3, in the championship game of the Women's Association of Colorado Hockey B1 State Tournament finals Sunday at Howelsen Ice Arena.
In the consolation finals, the Left Hand Brewsers and Colorado College went into overtime and then a shootout, where the Brewsers held on to take third place.
"As we expected, the closeness of each team yielded exciting play," said Lee Cox, WACH board member and player on Steamboat Springs' Chix with Stix. "The level of play is always more intense during the tournament."
The Chix entered the tournament ranked fourth and found themselves in a challenging pool, facing DU and the Silver-wolves during pool play, and losing, 9-0 and 5-1, respectively.
In their final pool match, the Chix defeated the Fort Collins Flames, 6-3. The six goals were evenly spread among Cathy Wiedemer, Sue Heineke, Melanie Nimtz, Val Dietrich, Lynne Meyers and Cox.
Meyers, Dietrich and Cox were credited with two assists apiece and Wiedemer, Heidi Chapman-Hoy, Renee Dupre and Holly Curtiss also earned one assist.
The Chix with Stix claimed fifth place after defeating the DWHL Spitfires, 2-0, on Sunday.
The Chix thank their supporters, including individual sponsors, tournament sponsors, silent auction item donors, fans and their dedicated coach, Tim Shorland.
- courtesy Riley Polumbus