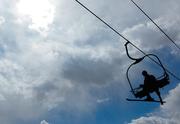 Few people look forward to becoming senior citizens. However, in the Yampa Valley there was consolation to be taken from the knowledge that their 65th birthdays meant skiers and snowboarders were eligible for a discounted season pass at the Steamboat Ski Area.
Now, the valley's newest senior citizens are adjusting to the news that the "young seniors pass," which cost $429 for the 2006-07 ski season, is being phased out.
Skiers and riders ages 65 to 69 who held the pass during the current ski season will still be able to purchase one for the 2007-08 season for $537. They'll also have the option of purchasing the Rocky Mountain Ultimate Pass, good for unlimited skiing at Copper Mountain, Winter Park and Steamboat, for $587.
However, skiers turning 65 this year will be faced with considering a more expensive pass, or one that offers fewer days of skiing. And the young senior pass will be out of the picture entirely in 2008-09.
Part-time Steamboat resident Gary Nelson said the news was disappointing, even though he can afford a more expensive pass.
"I'm turning 65 this year, and I've been looking forward to it. Not looking forward to turning 65, but becoming eligible for the young seniors pass," Nelson said. "Takeaways are hard."
Nelson lives in Steamboat throughout the summer and winter, relocating in the spring and autumn.
Steamboat Ski & Resort Corp. spokesman Mike Lane said the decision to phase out the young seniors pass was made in the course of blending Steamboat's season pass offers with those of the other Intrawest resorts. Intrawest closed on the purchase Steamboat Ski & Resort Corp. for $265 million on March 1.
Bonnie Madderom, who has lived in Steamboat with her husband, Jim, since 1975, turned 65 last year. She will qualify for one more year of the young seniors pass. Jim turns 65 this year and will have to consider other options.
Lane said his company is hopeful skiers ages 65 to 69 who didn't hold a young seniors pass last year will be attracted to other products, including the 10-, 15- and 20-day cards known as value passes.
Madderom has skied 49 days so far this winter compared to more than 65 last year when powder was more abundant. She says that in 2008-09, she'll purchase a full season pass, but not an ultimate pass. She'll absorb the extra cost either by working two days a week instead of one, or by giving up a spring trip.
Value passes remain in place since the transition to Intrawest ownership, Lane said.
The 10-day pass has gone up $50 to $499 for the 2007-08 season. The 15-day pass jumps from $599 to $659 and the 20-day pass will increase from $699 to $769. A full season pass will cost $949 this year and the Ultimate Pass entitling the holder to unlimited skiing at Steamboat, Copper Mountain and Winter Park will cost $999. A teen ultimate pass will cost $559.
Steamboat's merchant pass program remains in place for the Steamboat season pass, ultimate pass and the 20-day super value pass, Lane said.
Nelson said he's already decided to purchase the ultimate pass and make the most of it.
"I have four grandchildren on the Front Range," allowing him to meet them in Copper Mountain or Winter Park for a day of skiing, he said.
Early season passes are good through Aug. 15. The specially priced grandfathered young senior passes for 2007-08 must be purchased in person at the ski area ticket office or by phone at 871-5268, beginning Thursday. Eligible skiers will receive notification from the ski area by mail.
- To reach Tom Ross, call 871-4205
or e-mail tross@steamboatpilot.com