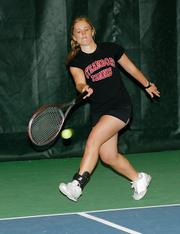 Steamboat Springs — The members of the Steamboat Springs High School girls tennis team cleared another regional hurdle Tuesday night, downing Aspen, 6-1, at home.
"It was good to get a little competition, and Aspen is always a fun match to play - especially before Western Slope Tournament," Breanne Murray said. "There is always competition no matter who you play, and this lets us know where we stand in the regional. If you don't finish first or second in the region, then there is no state."
Coach John Aragon knew the match against Aspen would be a good test for the undefeated Sailors, and he made sure his players were focused headed onto the court Tuesday.
"Our coach had told us that we needed to be prepared for Aspen, so I guess we focused a little more," Murray said.
The focus paid off as two of Steamboat's three singles players and all four doubles teams picked up wins. The only loss came in the No. 1 singles match, when Lisa Floyd lost her first match of the season to Aspen's Clara Kobuch. Kobuch, an exchange student from France, won, 6-2, 6-1.
"I let her get me down, and it took me out of my game," Floyd said. "Next time, I will be more on top of things, and it will be a different match."
Murray also was tested in her match against Aspen's Demetra Kayre in the No. 2 singles match, but pulled out a 6-3, 6-3 victory. Steamboat's Shelby Reed cruised past Jordan Meyer to win the No. 3 singles match, 6-0, 6-0.
In doubles, Molly Weiss and Kristin Toy downed Aspen's Casey Altmar and Robin Landis, 6-2, 6-1, in the No. 1 slot. Sailors Kirsten Brehmer and Kylee Swiggart, Sara Bearss and Kerry Enochs, and Alexis and Valerie Lezin also picked up wins in the match against Aspen.
"This was a lot tougher than the other matches we've played this season," Steamboat's Weiss said. "It's more competition, which is really good for us before we head to Grand Junction this weekend."
Steamboat will head to the Western Slope Tournament in Grand Junction this Friday and Saturday.
The players are excited about playing in the tournament that normally draws top teams from the Front Range including Cherry Creek and Cheyenne Mountain.
"This weekend will be a test, but it will also be a build up for the regional and state tournament," Floyd said. "The Western Slope Tournament is so much fun, but it's also a learning experience."
- To reach John F. Russell, call 871-4209
or e-mail jrussell@steamboatpilot.com