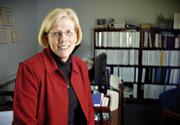 Steamboat Springs — Steamboat Springs School Board President Denise Connelly made it clear Tuesday that Superintendent Donna Howell's future with the district is not secure.
"Everything is up in the air," Connelly said the day after the board met behind closed doors for at least the ninth time this year to discuss Howell, her contract or her evaluation.
"I think people are soul-searching on what's best for the district. To me, it's like a relationship. You hit some rough patches, and you have to go back and say, 'What do I want out of this? What's best for the kids?' And we have more than two or three kids. It's on the table, and we are looking at a few different options."
Howell has two years remaining on her four-year contract. She makes $144,229, according to a copy of her contract.
"Conversations continue," said Howell, who would not comment further on Monday's meeting.
Board member John DeVincentis, who has been Howell's most vocal critic, could not be reached for comment Tuesday.
Last month, the School Board and Howell met twice for "facilitated conversations" with Ken DeLay, executive director of the Colorado Association of School Boards, serving as moderator.
The School Board and Howell initially met for the facilitated conversation in public March 19, but decided the discussion would best be held behind closed doors. A March 26 meeting was held in secret session. It started at 9 a.m. and was supposed to end at noon, but didn't wrap up until after 5 p.m., said board member Pat Gleason.
The School Board and Howell held the meetings to attempt to resolve issues that have arisen in recent months and to clarify Howell's roles and responsibilities with the district.
"I think the words after last week are that discussions are continuing about her and roles and responsibilities," Gleason said.
Policy governance, a policy put in place nine years ago under a former administration, was designed to help run the district, but what policy governance means remains unclear nine years later, said Howell and two School Board members.
"Policy governance spreads the responsibility," said Gleason, who has served on the School Board for six years, longer than any board member. "You hire the right people, put them in place and monitor their performance. It's a very simple concept."
Connelly, who has attended a policy governance workshop, doesn't believe policy governance is simple, and that the vision of policy governance nine years ago hasn't been fully realized because certain components of it, such as monitoring employees and communication among all players, were never fully implemented.
"It's something I think affects what we are talking about now as far as accountability and how we get that accountability without messing at lower levels with people's jobs and not usurping people's power," Connelly said.
The School Board is planning to hold a workshop this month on policy governance.
"There isn't clarity in what policy governance is," Howell said. "I think we are using the language, but I don't think we have clarity on what the language means."
-To reach Melinda Mawdsley, call 871-4208 or e-mail mmawdsley@steamboatpilot.com