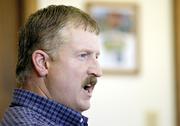 Steamboat Springs — Despite losing the support of the Routt County Sheriff's Office, the Greater Routt and Moffat Narcotics Enforcement Team received a boost in funding Tuesday after two county commissioners voted in favor of giving the drug task force $10,800 for administrative costs.
Garrett Wiggins, drug task force commander, along with officials from the Steamboat Springs Police Department and the 14th Judicial District Attorney's Office asked the Routt County Board of Commissioners to approve a request that would have allowed the DA's Office to make the $10,800 contribution to GRAMNET budget.
After some discussion, county commissioners Nancy Stahoviak and Diane Mitsch Bush agreed it would be more appropriate to allocate the $10,800 from the county's 2008 general fund instead of re-routing the money through the DA's Office. In 2006, the DA's Office consolidated its GRAMNET contribution with the Sheriff's Office contribution to "ease the accounting."
District Attorney Bonnie Roesink said consolidating the contributions was probably not the best idea and that she still wanted to support GRAMNET with money from her budget.
"I totally and completely support GRAMNET," she said. "It's very important to support GRAMNET's work in (Moffat and Routt) counties to do away with our drug problem."
Two residents urged the commissioners to approve the funding request. There was no public opposition to the request.
In February, Sheriff Gary Wall withdrew Sheriff's Office support of GRAMNET, saying he couldn't support the tactics and policies of the drug task force.
County Commissioner Doug Monger voted against Stahoviak's motion, calling Wiggins' comments about the future of drug enforcement under Wall's administration in rural Routt County "arrogant" and "pompous."
Wall did not make any comment during Tuesday's meeting.
Stahoviak expressed her concern in balancing the need to support Wall's decision with the fact that residents living in Steamboat Springs and Hayden are served by GRAMNET since those police departments participate in the agency.
"What we have here is two different philosophies and mechanisms for drug enforcement that are both working in Routt County," Stahoviak said. "That's the way it is going to be because our sheriff has made a decision."
The $10,800 will come from the county's 2008 general fund's community services budget and will be used primary for administrative costs including the drug task force's financial manager's salary, travel, training and other expenses. The city of Craig, whose police department also contributes to GRAMNET, will act as the fiscal agent for the money and will send invoices to Routt County. That process will allow the county to be more accountable for how that money will be spent, Stahoviak said.
"We are the ones accountable for Routt County taxpayer money," Mitsch Bush said. "The buck stops with us."
- To reach Alexis DeLaCruz, call 871-4234
or e-mail adelacruz@steamboatpilot.com