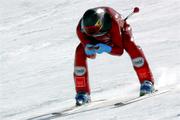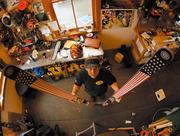 Tim Magill can only see the ten meters directly in front of him as he accelerates down a 70-degree slope and pushes past the 100 mile-an-hour mark in a matter of seconds.
And it's not just the limited view from his bell-shaped, $1,300 custom underwater welder's helmet adorned with a snarling grizzly bear. The 48-year-old Routt County native knows if he lifts his head up or feels even the slightest draft, he'll never break his personal best, top ski speed of 147 mph.
"It's like being in a tunnel," Magill said. "The wind is all above you, pushing you down and past the leg fairings and the rubber suit. You get some G's with the down pressure and the adrenaline gets going."
Magill set the time last year at Les Arcs, France, on a course he equates to skiing "from Thunderhead to the Christie base in about 20 seconds." Magill leaves Tuesday for a 20-day European stint during which he will hit four events, including two of this year's "World Pro" stops and the 2007 FIS Speed Ski World Championships.
Magill thinks he now has the experience and the legs to earn a top finish - to train, he's a regular gelande jumper at Howelsen Hill, where he practices his tuck on the steep landings and has about 60 days of top-to-bottom laps at the Steamboat Ski Area.
"I go say high to Buddy, ski down to B.C., get real comfortable in my tuck and end up at Billy's statue," joked Magill, working Wednesday in the ski tech room he runs at Steamboat Ski & Bike Kare.
From April 10 to 15, Magill returns to the steep Les Arcs course where he set his personal record during the same competition that fellow American Ross Anderson set a new North American record and then Italy's Simon Origon beat Anderson to set the new world mark (156 mph). Magill thinks this competition will be his best chance to raise the bar.
"I have two goals," Magill said. "Well, I want to go as fast as I can, but I want to be around on that last run, and I want to go 150."
A relative newcomer to the sport, tagging along for a trip to the now defunct Snowmass course and becoming hooked in 2002, Magill was more than pleased to have made the top-20 cut at the world record event last year, to have served as captain to the six-member (non-funded) U.S. team and to have placed 10th overall (the No. 2 American) at the FIS World Cup Finals.
Now, with the right conditions and the right run, Magill is confident he has a podium shot at the world championships, April 16 to 19, in Verbier, Switzerland, especially considering it is on a gentler, more rolling slope that limits top speeds but favors overall ski racing ability to the straight tuck-and-hold method.
"He's legit - the guy's a grizzly bear," said Dale Womack, a Durango-based skier who raced for the U.S. during speed skiing's lone Olympic appearance at the 1992 games in Albertville, France, and who sold Magill his old 240-centimeter, red-white-and-blue competition skis. "He'll set his mind to something, and he'll do it."