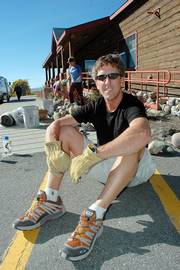 Steamboat Springs — Chip Coe is stepping down from his position as president of the Steamboat Springs-based SmartWool Corp. The announcement was made public Friday.
"It's a good opportunity for me to step aside and allow them to rise, and it allows me to enjoy some of the fruits of my labor," said Coe, who has worked for the apparel company for almost seven years.
Coe said he plans to stay in Steamboat and will spend time with his family as well as pursue other business interests locally.
In conjunction with Coe's departure, the company announced that Mark Bryden, vice president of operations, will take over as the interim general manager.
"I'm humbled, but I'm really thankful and excited," said Bryden, who came to SmartWool about two years ago after being recruited by Coe.
"He's an amazingly talented guy," Coe said of Bryden.
Bryden has 27 years of experience in apparel marketing and manufacturing. He was a vice president at Levi Strauss before coming to SmartWool in 2004. He will lead SmartWool until a permanent replacement is hired. Coe will work closely with Bryden in the coming weeks as part of the transition.
SmartWool is based in the former Steamboat Springs Airport Terminal, a location that is appropriate, given the company's quirky and fun attitudes, Bryden said.
The company was founded in Steamboat in the 1980s by Peter and Patty Duke. Former ski instructors from Vermont, the Dukes started out marketing knit caps but found their true niche in soft Merino wool socks that became as popular for hiking in the mountains as they did for skiing.
In November 2005, outdoor apparel company Timberland acquired SmartWool for an estimated $82 million. Coe said a successful transition has been one of his proudest accomplishments, in addition to building the SmartWool brand and growing the company with talented employees.
"We went from being 15 people to mid- to upper-50s, and we're still growing," Coe said. "For a small ski town like this, it's amazing the amount of talent that works there."
"He's the one that has led this team through the last six years," Bryden said. "He's left a leadership team loaded with talent."
Bryden said SmartWool plans to continue growing, and there are plans to add more employees next year.
"It's clearly a company that is focused on commercial success," Bryden said. "It's also a group of people that are passionate about what we're doing, passionate about the brand and passionate about where we live - in Steamboat."
- To reach Matt Stensland, call 871-4210 or e-mail mstensland@steamboatpilot.com