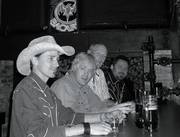 It's not unusual for Steven Wells - the singer, songwriter and guitarist for Ghostowne - to be bleeding by the end of his performances.
"I play so hard that I rip my fingers up on my guitar strings," Wells said. "I get a little out of control, and they sometimes have to carry me offstage because I expend so much energy."
Ghostowne plays "high-energy, white-trash-and-Southern rock" with autobiographical lyrics. Wells wrote a song about his white trash lifestyle called "Doublewide."
"I used the trailer as a symbol, but it's about wanting something bigger in life, whether it's a beer or a big pizza," he said. "It's whatever you want it to be."
Audio clips
Ghostowne songs
His song "Cigarettes and Black Coffee" is about "waking up in jail the morning after, all hung over, and there are only three things that you want - Tylenol, cigarettes and black coffee," Wells said. "It's a fun little sing-a-long we do."
Wells wrote the song "I Only Smoke When I Drink" because he has heard people say that phrase a million times.
"I wrote the whole thing on a napkin in 20 minutes," he said. "I was sad at the time because I had just broken up and was drinking all the time, so I was smoking all the time."
Past Event
Saturday, September 30, 2006, 10 p.m.
Tugboat Grill & Pub, 1860 Ski Time Square Drive, Steamboat Springs
21+ / $5
Wells' songwriting also is his way of dealing with heavy subjects. When his friend was diagnosed with multiple sclerosis three years ago, he wrote a song called "Duct Tape and Tequila."
"It's an upbeat way of looking at something that can really ruin you life," Wells said. "Tequila can fix anything with the soul or spirit, and duct tape can fix anything physical. Between those two, you got it covered."
Wells was diagnosed with Parkinson's disease six years ago and has since organized a Parkinson's benefit every year.
"We are all young and want to relate to our generation. It's not only an old person's disease," he said. "We raise money and awareness and have some funny songs about it."
When Wells is with his friend with MS and his friend with Lyme disease, they refer to themselves as the "handicapped team."
"We have to, because if you think about it seriously, you'd just curl up in a fetal position and be worthless," he said. "You got to treat it for what it is, but make light of it."