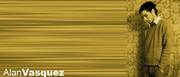 Past Event
Friday, September 29, 2006, 9:30 p.m.
Old Town Pub & Restaurant, 600 Lincoln Ave., Steamboat Springs
21+ / Free
Alan Vasquez is a one-man band capable of eliciting some extreme responses from his audiences.
During a show at Western Illinois University, Vasquez said a 6-foot, 250-pound man started dancing erratically and rubbing his chest and stomach.
"Imagine trying to concentrate with a huge guy in the middle of the dance floor having too much of a good time while spitting at me and slobbering," Vasquez said. "I saw a lot of that guy's chest in the second set."
And there was that fan at a show at the Bend River Brewery in Illinois. A girl looked him straight in the eye and asked him to marry her. He told her he already was engaged.
"She broke down and was sitting at a table crying and raised her voice that she wouldn't leave," Vasquez said. "Because I guess I kind of crushed her hope for marriage. I didn't know what to do."
But Vasquez does know what to do on stage, where he loops all of his instruments to produce music with the depth of an entire band.
"On stage I have a six-string (guitar), 12-string acoustic (guitar), bass and electric guitar, a mandolin and a bunch of electronic equipment that adds all the textures and synthesizes sounds that sound like anything from a sax to a drum to a piano to ambient noise," he said. "I also have a drum machine that I lay back beats on and some sampling equipment."
Vasquez describes his craft as a fluid, random process that involves a lot of improvisation.
"It is an organic process that I get to be a part of, almost to where I am not completely in control of it," he said. "It is like watching a painter that could have painted something 10 different times but does it different each time."
Vasquez began looping music because of a lack of other people to play with in the small Illinois town in which he grew up. He considers himself a music junkie and gets a rush from being able to turn an emotion into notes.
"A couple of my songs are my favorite because I can't even tell you the feeling that rushes through my body when I play," he said. "Playing music is something I need to do right now and keep discovering to keep my head on my shoulders."