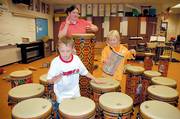 Steamboat Springs — Michelle Hess has no problem with the friendly barbs she gets from her fellow teachers at Strawberry Park Elementary School.
"Their joke is, 'We didn't think Michelle's class could get any louder, but we were wrong,'" Hess said Thursday.
Hess, Strawberry Park Elementary School's music teacher, is the proud owner of 20 new African drums, which she already has started using in her first- through fifth-grade music classes.
"I took a class in world music drumming over the summer and decided it would be a really cool way to reach the students," Hess said. "Having had four drums before, I was always trying to figure out why, when the kids walked into the room, they would always want to play the drums. It's because I never let them play with them."
Hess now has 15 tubano drums, two djembe drums, two sets of bongos, three talking drums and a ngoma.
"Now, when the kids come, we can all drum together," Hess said. "I'm going to use those drums not only for the experience of getting to play African drums, but I'm going to use them to practice the rhythmic concepts I teach. When I'm teaching quarter-notes, we're going to play quarter-notes. When I'm teaching syncopation, we are going to play syncopation."
Hess has a $2,000 budget, and she used $1,500 to purchase the drums. The school committed an additional $500, and the school's Parent Teacher Information Committee matched Hess' $1,500 expense.
"The big selling point was this was a one-time purchase but a forever impact," Hess said. "Every single kid will have access to them."
Another positive result of the purchase, Hess said, was her increased ability to meet national standards with regards to teaching music. Music experts devised nine standards, and the drums meet four of them.
"This specifically targets (these areas): Students will play alone and with others, students will improvise, students will make cultural connections, and students will read music," Hess said.
This year, the art and music programs have come up with a theme of "Africa." The elementary students will learn about the continent's music, art and culture throughout the year.
- To reach Melinda Mawdsley, call 871-4208 or e-mail mmawdsley@steamboatpilot.com