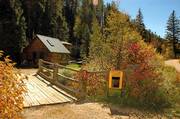 Steamboat Springs — City planners held staunchly to the city's urban growth boundary Thursday night.
The Steamboat Springs Planning Commission denied four proposals for extensions to the boundary, and tabled a fifth proposal, at a meeting that set a rigorous standard for applications seeking development on rural or open space lands.
The planning commission denied proposals asking for boundary extensions on areas including a 58-acre plot adjacent to the Sanctuary subdivision, east of Aspen Wood Drive; a half-acre plot at the northern end of North Larimer Street; a 4.5-acre plot on Spring Creek Road, which is Routt County Road 34; and a 1.5-acre plot on the northeast corner of Amethyst Drive and Spring Creek Road.
The denials mean that plans for development, such as a proposed 31-lot subdivision on the site adjacent to the Sanctuary and a proposed eight-lot subdivision near the popular Spring Creek Park recreation area, cannot move forward at this time.
"We set urban growth boundaries for a reason, and the reason is to prevent urban sprawl," Planning Commissioner Dick Curtis said. "We have fixed boundaries, and those are not ready to be changed."
The city established the urban growth boundary in 1995 as part of the Steamboat Springs Area Community Plan.
"The urban growth boundary is the demarcation line for what is urban and what should remain rural," said Brian Berndt, the city's assistant director of planning services.
Berndt told the commission that five criteria must be met for a boundary extension to be granted at a given site. The extension proposal must be consistent with community plan goals and policies, must include public benefit, must be consistent with surrounding land uses, must be on suitable land with no environmental hazards, and must be contiguous to existing development.
Of the four denied proposals, only the half-acre site near North Larimer Drive met all five criteria, according to city planning staff. At that site, landowner Butch Dougherty proposed a two-lot subdivision.
But six residents of the neighborhood objected to the proposal, citing concerns with fire department access, snow removal, water and sewer access, and safety on crowded, sloping streets.
"There is absolutely no public benefit to this," said Arapahoe Lane resident Robin Crossan. "I am very surprised the city would say this is consistent with their policy."
In denying the proposal, the planning commission went against the recommendation from city planning staff.
Several members of the public also objected to the proposal adjacent to the Sanctuary subdivision, which the planning commission denied because of questions about road access, wetlands mitigation and the suitability of the land for development.
The planning commission acted strongly against extending the urban boundary to include areas near Spring Creek Park.
"It's not appropriate to have major development anywhere within the Spring Creek Park area," Curtis said.
The fifth boundary extension proposal, which the commission tabled for one year, involved a 3-acre plot northeast of Thornburg and Yahmonite streets.
- To reach Mike Lawrence, call 871-4203 or e-mail mlawrence@steamboatpilot.com