Substitute teaching
If you are interested in being a substitute teacher, contact the administrative office at the districts where you would like to teach. An application process is required in each district, and School Boards must approve all substitute applications.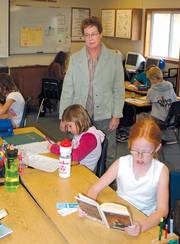 Steamboat Springs — The Steamboat Springs School District is in dire need of substitute teachers.
"It's almost to a point of crisis," Superintendent Donna Howell said at Monday's School Board meeting.
The board approved the addition of four people to the district's substitute list, but four isn't enough to meet the district's needs.
"We are really suffering from a lack of sufficient substitutes," Howell said.
Certified substitute teachers receive $85 per day, and non-certified substitute teachers are paid $80.
The dollar amount, coupled with the fact that certified instructors are compensated on a similar level as non-certified instructors, may be the problem, board member John DeVincentis said.
"I've heard from certified substitute teachers who said they won't sub for the small amount of money they get," he said.
DeVincentis is the former principal at Strawberry Park Elementary School.
He went on to recommend the board increase substitute pay and acknowledge those certified substitute teachers by paying them more than $5 more than non-certified substitutes.
Howell said substitute teachers are not a luxury item.
They are a necessity, and she said research into attracting substitutes would be done, and she would return to the board with the financial ramifications on the budget.
Steamboat isn't the only county district with a substitute problem.
Hayden Superintendent Mike Luppes said he and other administrators have been forced to teach because of a lack of substitutes.
Hayden's paraprofessionals work to get certified in case substitute teachers are needed.
Teachers sometimes are paid extra to forgo their planning time to sub.
"We just do whatever we do to make the classes continue on," Luppes said, adding that having a substitute teacher in place is always the preferred option.
In general, both Luppes and South Routt Superintendent Kelly Reed said their substitute situation is "OK," but Reed said districts are always looking for additional substitutes.
Steamboat, Hayden and Soroco teachers occasionally attend meetings together, meaning all three schools are looking for substitutes at the same time.
The districts do have similar substitute lists.
"When all of us are trying to find subs, it's just brutal," Luppes said.
To be a substitute teacher in Colorado, a four-year college degree is required. To be a certified substitute teacher, applicants must have teaching certificates. A series of classes can be taken to gain certification.