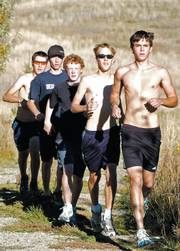 Steamboat Springs — Steamboat Springs cross-country coach Glen Light checked to make sure he had the training essentials for Tuesday's practice - a couple of cream pies, two dozen eggs and a trash bag full of water balloons.
After working hard during the previous week, which culminated in a team win for the boys and a second-place finish for the girls at Saturday's Moffat County High School meet in Craig, Light thought his teams deserved to have a little fun.
Light's pranks reflect the loose, quirky and lively attitude of this year's cross-country teams. The easy-going camaraderie seems to be paying off, as members of the boys team see improvement from past years and feel positive heading into their Saturday meet at Summit High School.
"Charlie (Stoddard) and I ran a minute faster than we did last year," said senior Lee Wren, who finished 11th in Craig. Wren, along with Matt Hill and Charlie Stoddard, who finished the race in third and fourth place, respectively, form the nucleus of the boys team's top returning runners.
Noting the loss of Kieran Corrigan and Sam Tarrant from last year's state-qualifying team, Hill said that the bulk of the boys team is still undecided with the regional meet still four weeks away. At that meet, the team's chance to qualify for state hinges on Stoddard, Wren and himself continuing to place atop the pack while identifying two more runners who can post solid finishes.
At Saturday's meet, sophomore Bryce Gordon and junior Sam Chovan stepped up to those crucial roles to hold Steamboat's top-five-finishers score just ahead of Moffat County's for the win.
Gordon said he felt the team's younger runners are helping to compensate for their veteran loss and was excited to have set a personal 5K record in his 17th-place finish at the meet.
Although runners such as T.J. Anderson have nothing but enthusiasm for the team's motivation and potential, Hill thinks it's still too early to determine how far they can go. The team hasn't raced against the majority of its regional rivals.
The girls team also noticed significant improvement from last year's times in its second-place team finish behind Moffat County.
Rachael Caires, Steamboat's top finisher at seventh place, said she enjoyed a relatively flat course with a singular challenging hill, where she shaved three minutes from her previous time. Following Caires, Steamboat's other scoring finishers included Alyssa Walters and Maria Nicolls, who finished in the top 25, followed by Anna Anderson and Annie McLean.
"I was happy with how they did on an individual basis," Light said of the girls team he says has good fitness levels but could benefit from speed work.
With many new runners on the girls team still getting their first race experiences behind them, the sizeable team looks to harness this year's light-hearted approach to keep improving as it moves into the second half of its season.