On the record about pot
An audience member at the forum asked the two candidates for Routt County Sheriff, Democrat Gary Wall and Republican Garrett Wiggins, how they stand on Amendment 44, which would legalize possession of an ounce or less of marijuana for Colorado adults 21 years of age and older.
"I am against it - vote no," said Wiggins, a narcotics enforcement officer with the Steamboat Springs Police Department.
"To say I'm for it or against it, it's way too complicated of an issue," said Wall, a private investigator and former Vail police chief.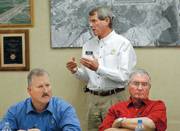 Steamboat Springs — Candidates from different election races and political parties agreed Wednesday that money is the solution to crowded child care programs in Routt County.
"The cost of preschool has been regulated to the point where it is unattainable for most families in most communities," said Andy Gold, a Democrat who is running for the state House of Representatives in Routt County's district. "If elected, I will seek every opportunity to benefit our schools."
Gold was one of 11 local and regional candidates to speak at a lunchtime forum about early childhood education issues, hosted by First Impressions of Routt County. First Impressions provides resources and programs to foster healthy educational environments for young children.
Incumbent state Rep. Al White, R-Winter Park, could not attend the meeting because of a family illness. But Susan Mizen, director of Horizons Child and Family Services, spoke about White's efforts to improve education in Colorado, including his 2004 "Friend of Education" honor from the Steamboat Springs School District and awards he has received from Colorado Mountain College and the Board of Cooperative Educational Services.
The two candidates for Routt County commissioner, Republican Paul Strong and Democrat Diane Mitsch Bush, also spoke about ways to increase funding for local child care. Family Development Center Director Tami Havener asked how they would maintain the "unheard of" high quality of Routt County preschools, while also increasing affordability and availability of programs for families facing "overflowing" waiting lists.
"I believe the essence of planning is partnering for our children's future," said Mitsch Bush, vice-chairwoman of the Routt County Planning Commission. Mitsch Bush helped initiate the creation of First Impressions with her work on "Vision 2020," a long-term plan for county goals that cites a need to focus on early childhood education.
Mitsch Bush said the county could seek grants to fund preschool and child care programs.
Strong, a member of the Steamboat Springs City Council, previously served on the First Impressions Board of Directors. He recalled a tax initiative to support early childhood education that local voters rejected five years ago. That initiative failed, Strong said, because of a lack of community education about the impact of early childhood on the future development of children and teens.
"Once we have that education, there will be a clamor for more funding," Strong said.
At the meeting, First Impressions early childhood manager Stephanie Howle presented yard signs from the "It's About Kids" advocacy network, affiliated with the Colorado Children's Campaign. The signs ask voters to consider children and family issues when casting ballots.