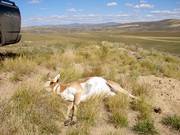 Steamboat Springs — The Division of Wildlife is looking for the person or people responsible for illegally shooting six antelope and two deer.
The carcasses were found along Routt County Road 65 on both sides of the county line, and officials think the shootings occurred early Sunday evening.
Jim Haskins, district wildlife manager for the Colorado DOW, said that if found, the people responsible could face felony charges of trespassing, hunting out of season and the willful destruction of wildlife. Big-game rifle-hunting season begins Oct. 14.
"They just shot them and left them," Haskins said. "It makes it pretty serious because of the fact they abandoned the carcasses."
A rancher contacted the DOW on Sunday and reported finding two dead antelope on his property near the county line. Bow hunters who were hunting on the rancher's land said they heard shots at about 5 p.m.
Routt County sheriff's deputies initially investigated the incident, and DOW officials took over the investigation Monday.
Eight dead animals that had been shot with a rifle were found in the area known as Breeze Basin. Some were shot in Moffat County.
Haskins said officials treated the site like a crime scene and were able to collect evidence. The carcasses had to be disposed of after the investigation.
"They weren't salvageable," Haskins said.
It appeared all the shots were made from C.R. 65, and some of the shots might have been in the same direction as a ranch and some livestock, Haskins said.
Instances like this are fairly uncommon, typically occurring every two or three years, but poaching is a big concern, Haskins said.
"We're asking for any help if anyone has any information."
Anyone with information is encouraged to call Colorado's Operation Game Thief at 1-877-COLO-OGT. Callers do not have to give their names or testify in court. A reward of $500 is offered to people with information on cases involving big game or endangered species.
According to the Colorado DOW, studies indicate that poachers kill nearly as many animals as people who hunt legally, and poaching is a costly crime.
"It robs legitimate sportsmen of game and fish, robs businesses and taxpayers or revenues generated by hunting and fishing, and robs all of us of a valuable natural resource - our wildlife," according to the DOW Web site.
- To reach Matt Stensland, call 871-4210 or e-mail mstensland@steamboatpilot.com