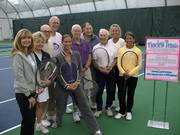 Steamboat Springs — Karen Connell believes you are never too old to learn - or to play - tennis.
The leadership of the Visiting Nurse Association, and Tennis Center director Jim Swiggart agree. Together, the organizations are offering four "Timeless Tennis" clinics as part of the VNA's Aging Well program. The clinics are designed for players older than 50 who either haven't played tennis for a while or would like to learn the game. The clinics include one hour of drills and instruction and a half-hour of playing time. The Tennis Center has hosted two of the clinics and will be offering the third from 2 to 3:30 p.m. Thursday. The last clinic is from 2 to 3:30 p.m. Oct. 2. The clinics are free and open to the public.
Connell said Swiggart has donated the court time and has been on hand to help teach the clinics.
"We have a great tennis community and a great tennis facility," said Connell, who proposed and leads the program. She said many people older than 50 already are playing tennis in Steamboat, and she is hoping to attract more with the free clinics. She said tennis is a great way for older people to stay in shape and that the game can be enjoyed at any age.
Alfred Kahn, John Fetcher, Clay Hanger, Cal Meyers and Stan Whittemore played an exhibition match at the first clinic Sept. 21. Connell hoped the exhibition match, during which the average age on the court was close to 90, would inspire players of all ages.
Connell hopes that she will get a mix of older players for the final two clinics.
"We are off to a pretty good start," Swiggart said. "We are hoping to get a few more people interested in clinics, and then I'm hoping to build on them."
The Aging Well program is a comprehensive community-based program of healthy aging for men and women 50 and older. It emphasizes wellness and prevention and empowers older adults to stay active, engage in community life, and remain healthy, safe and independent for as long as possible.
The Aging Well program also offers classes including yoga, arthritis exercise, strength, balance and flexibility. For more information, contact the Northwest Colorado Visiting Nurse Association.