Run for Literacy results
7.25-mile results
Men 19 and under

Kyle Steitz 1:06:19

Men 20-29

Jonathan Huie 0:49:49
HC Martensen 0:54:45
Robert Kanieski 1:08:43

Men 30-39

Andy Picking 0:55:38
Walter Magill 1:07:31*

Men 40-49

Brian Tate 1:00:32
Matt Isacck 1:24:28

Men 50+

Tom Welson 1:09:37
Glen Bakken 1:14:05
Don Platt 1:27:47
David Krause 1:31:12

Women 20-29

Sarah Walker 1:01:53
Jenna Gruben 1:05:19
Nicole SanJuan 1:23:37
Andrea Detwiler 1:24:36

Women 30-39

Samantha Pearson 1:08:21

Women 40-49

Betsy Kalmeyer 1:07:12
Raeann Cook 1:31:12
5k results
Men 19 and under

Carter Miller 20:43
Erik Lynch 23:04
Zeb Tipton 30:51:00
Will Zupan 41:00:00
Carson Russell 42:03:00

Men 20-29

Patrick Hansen 16:55

Men 30-39

Joel Rae 22:44
Bill Connor 24:31:00

Men 40-49

Craig Nagel 20:56
Kerry Lynch 21:21

Men 50+

Jerry Howell 19:15
Bill McCalla 36:36:00

Age unknown

Greg Long 23:21

Women 19 and under

Brittany Long 23:20
Kaitlyn Nagel 28:13:00
Jordan Teasley 35:37:00
Kate Jankowski 31:08*

Women 20-29

Ruth Rounds 25:00:00
Katie Hughes 28:21:00
Lauren Angermann 31:14:00
Wendy Archileta 35:36:00

Women 30-39

Lisa Adams 23:22
Cathy Johnson 27:26:00
Karen Godman 28:49:00
Deidre Saunders 31:25:00

Women 40-49

Chrissy Lynch 24:25:00
Barbara Block 29:32:00
Robyn Jankowski 31:08*

Women 50+

Michaelle Isaeff 26:23:00
Cynthia Howell 26:53:00
Marti Irish 29:58:00
Karen Warner 36:57:00
Jean Foreman 42:07:00
Steamboat Springs — After two days of rain and cold weather, the skies opened up, temperatures rose and more than 60 runners and walkers took part in the 20th annual Steamboat Pilot & Today Run for Literacy in near perfect conditions.
"It wasn't too cold. It wasn't windy," said Chrissy Lynch, who finished third in the 5K with a time of 24 minutes and 25 seconds. "Really it was a perfect day."
The event, which was the final installment in the Steamboat Springs Running Series, featured a 7.25-mile run, a 5K run and race/walk and the First Impressions Tot Trot.
The 7.25-mile run began at the newspaper parking lot, went to the Limestone Quarry overlooking Steamboat Springs, before racers descended Emerald Mountain on a scenic single-track trail through aspen groves.
"It was really tough," said, J.J. Huie, who finished first overall with a time of 49:49. "On the way up it was good but on the way down it was a little rocky. You couldn't go as fast as you wanted."
Huie, a Steamboat resident, has won every race he has competed in during the Running Series this year. He said Sunday's race was the third toughest in the Series but said the beauty of the course ranked right up at the top.
"This running series is second to none as far as beauty and challenge of the courses go," he said.
HC Martensen finished second with a time of 54:45 while Andy picking came in third with a time of 55:38.
On the women's side of the 7.25-mile run, Sarah Walker continued her dominance in the Running Series, winning in 1:01:53. Walker has won every event except one that she has competed in. Walker said she enjoyed the course layout, the views during her run and the Running Series as a whole this year.
"I'm very competitive," she said. "I like having a series where points add up week-to-week."
Jenna Gruben finished second in 1:05:19 and Raeann Cook finished the race in third with a 1:07:12.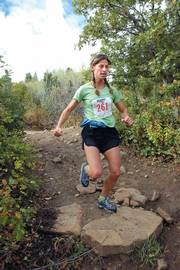 The 5K run and race/walk, which left the newspaper parking lot and went to the Fairview Subdivision before coming back to the James Brown Bridge, featured the most exciting action of the day.
During the last straight away, Brittany Long was leading when she got a cramp in her stomach. After working it out, Long raced towards the finish line and passed Lisa Adams to take first.
"It was pretty," Long said. "There were a couple of hard hills, but it was good."
Long finished in 23:20 two seconds better than Long.
All proceeds from the race support the Newspapers in Education program, which provides newspapers and learning materials to school-age children in Routt County.