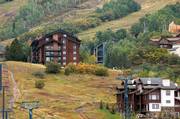 Steamboat Springs — An Edwards-based development group has purchased the ski-in, ski-out Bear Claw III site at the base of the Steamboat Ski Area.
Bear Claw III is covered by a previously approved development permit dating to 1985 that would allow the owners to build a condominium monolith almost on the same scale as the Steamboat Grand Resort Hotel. However, a spokesman for the Atira Group said this week his partners do not intend to act on that 21-year-old approval for a 375,000-foot building.
"This property represents an opportunity for a select few to own and enjoy breathtaking views and slope-side access to world-class skiing at Steamboat Springs," said Lance Badger, a senior development partner with the Atira Group.
Other members in Atira include principles in the existing Catamount development south of the city.
Badger said the plan, which has not been submitted to the city of Steamboat Springs, would include "luxury mountain residences," onsite amenities and an Alpine Club.
The principals in Atira Group, Badger said, have been among the founding managing partners for Cordillera in the Vail Valley, Granby Ranch, The Cub at Crested Butte and Mayacama in Sonoma county, Calif. They include well-known ski industry figure Gerry Engle.
In 2000, Bear Claw III principle Joe Brennan, a longtime resident of Steamboat Springs, said he and investment partners were close to breaking ground on a 375,539-square-foot building comprising almost 220,000 square feet of salable square feet at Bear Claw III.
The 1985 permit, Brennan said at the time, was fully vested and did not bind him to a specific set of floor plans or number of condominium units. As long as the partnership conformed to the approved shell of the building, it had the freedom to configure units to suit the market that prevailed earlier this decade.
Badger said the planning process for Atira Group takes into account the surrounding buildings in an effort to be "contextually proper." It also strives to ensure its projects are financially sound not only for partners and customers, but also for the communities where they are located, he added.