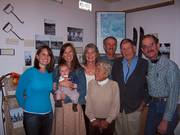 Steamboat Springs — The Fetcher family has made significant contributions to the Yampa Valley in a short amount of time.
The family is being featured at the Tread of Pioneers Museum in a new exhibit, "Foundations of Steamboat: The Fetcher Family," that will be on display until August.
"This exhibit celebrates the numerous accomplishments of the Fetcher family. including their roles in water conservation and planning; ranching and the conservation of our agricultural heritage; the Howelsen Hill jumping facility; and the founding of the Steamboat Ski Area," said Candice Lombardo, executive director of the Tread of Pioneers Museum. "Their efforts have tremendous and lasting impacts on the unique culture and heritage of this valley."
Two "city boys" John and Stanton Fetcher, and their wives moved to the valley in 1949 to try ranching in Clark.
"They didn't know which end of the cow got up first," said John's son, Jay Fetcher.
Ranch life was not easy at first, but the Fetcher family was responsible for leading the way for conservation easements on the Elk River.
"Other ranchers have followed suit, and that whole corridor will be preserved as open space and agricultural land," Lombardo said. "They were concerned and did something about it."
John also helped raise money to rebuild the ski jumps at Howelsen Hill after a fire destroyed the existing jumps in 1972. He was instrumental in forming Storm Mountain Ski Corp. with Jim Temple, Marvin Crawford, Gates Gooding, Gordy Wren and Bud Werner, and became the first president of the ski company.
John's ski patrol jacket and skis are in the exhibit along with a video of John describing the founding of the ski area, opening day jitters and construction of the first lift.
John is well-known for his involvement in water rights, storage and irrigation, which began more than 30 years ago, when the family sold 600 acres of Hahn's Peak property to build Steamboat Lake. John joined the Upper Yampa Conservancy District and saw the completion of Stagecoach and Yamcolo reservoirs ,as well.
"Those reservoirs provided irrigation and recreational opportunities for a lot of the Yampa Valley," Lombardo said.
Routt County is fortunate to have so much of its heritage preserved through the contributions of local families, whose legacies are tangible at the Tread of Pioneers Museum, Lombardo said.
"It's a pretty unique experience, I think, just the idea that we worked as a family and as a community to make the ranch work," Jay said. "That's something not many people experience anymore."
- To reach Allison Plean, call 871-4204 or e-mail aplean@steamboatpilot.com