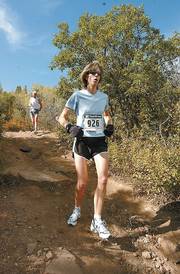 Steamboat Springs — The 20th annual Steamboat Pilot & Today Run for Literacy will mark an end to another successful year of the Steamboat Springs Running Series.
Sunday's Run for Literacy will feature a 7.25-mile run, a 5K run and race/walk and the First Impressions Tot Trot.
The 7.25-mile run begins at 9:30 a.m. and starts at the newspaper parking lot. The run passes over the James Brown Soul Center of the Universe Bridge, goes along Twentymile Road, past the historical Lithia Spring on Blackmere Drive to the Limestone Quarry overlooking Steamboat Springs. Racers will descend Emerald Mountain on a scenic single-track trail through aspen groves. Runners gain about 1,000 feet in elevation before turning around at the Limestone quarry and descending Emerald Mountain.
Nate Anderson was the top male finisher last year, with a time of 50 minutes and 36 seconds. Katie Hegg was the top female, finishing in 1:05.39.
"Fall is here, and the colors on Emerald Mountain should make the race even better," said Melinda Mawdsley, one of the race organizers. "This year's prizes are amazing, and we thank local businesses for being so generous in helping us put this year's race on."
The 5K run and race/walk, which begins at 9:40 a.m., leaves the newspaper parking lot and connects with the Yampa River Core Trail just before the James Brown Bridge. At the Art Depot Center, runners will climb a short single-track into the Fairview Subdivision, then head back to the James Brown Bridge.
The First Impressions Tot Trot is at 10:45 a.m., with registration beginning at 8:45 a.m. Sunday. Children ages 8 and younger are encouraged to participate.
All proceeds from the race support the Newspapers in Education program, which provides newspapers and learning materials to school-age children in Routt County.
Pre-registration is $20 and available through www.actice.com or at Christy Sports in Central Park Plaza until noon Friday. Race-day registration is $25 and begins at the Steamboat Pilot & Today office. Food will be served after the race.
Running Series director John Chapman said this is one of his favorite races of the year. In addition, he said he will be giving away several mail-in certificates for a pair of Timberland running shoes. Six pairs will be given to competitors 18 and younger, and pairs will go to the male and female overall winners.
- To reach Luke Graham, call 871-4229 or e-mail lgraham@steamboatpilot.com