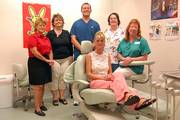 It's been open for just 18 months, but the Northwest Colorado Dental Coalition clinic has almost outgrown its new office.
"Our patient base continues to grow, and we have little down time," said Misty Schulze, director of the coalition. "We definitely don't want to outgrow our new facility, but the demand and need is great."
The dental coalition was formed to serve those ages 21 and younger who qualify under Medicaid or the state's Child Health Plan Plus in Northwest Colorado's five-county region. The coalition also accepts low-income patients and prenatal mothers.
The coalition used to serve children with a traveling dental bus on a monthly basis, but in March 2005, the clinic opened in Craig to provide daily care.
Since then, the word about the clinic has spread.
"We're based in Craig, so that community knows about us the most, but the awareness is spreading to the other four counties," Schulze said. "We are currently working on helping with transportation costs from Steamboat Springs, and we see a lot of kids from Meeker."
The clinic sends a hygienist out to perform screenings at local schools in the fall. The screenings have identified dozens of cases of visible tooth decay.
The picture most have of the clinic is helping toddlers with care, but Schulze said they also see a lot of teenagers.
"We're adding another full-size chair because a 6-foot-2 football player has a hard time fitting in our benches for the children," she said.
Schulze said the coalition continues to look into providing care for adults in need.
"There's a lot of red tape in adult care," she said. "We hope to at least set up a program to identify restorative needs and providing preventative work for adults," she said. "That way we could at least provide basic care for $50 instead of $280 at a clinic."
With the help of a Caring for Colorado Grant, the clinic has one full-time dentist, a hygienist and an expanded duties dental assistant on staff. The hygienist's duties were increased from two to three days a week.
Schulze took over as the director after longtime director Debi Harmon stepped down in the spring. Schulze said Harmon continues to be a consultant and that the transition has gone well.
"We continue to move forward," she said. "We're only going to get bigger."