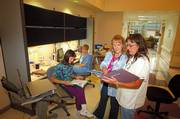 Dawn Leipold and Cindy Meade are proud of the two letters following their names.
"That's capital 'R' and capital 'N,'" Meade said. She and Leipold are registered nurses at Yampa Valley Medical Center in Steamboat Springs. They earned the title of RN together, as classmates at the Craig campus of Colorado Northwestern Community College. The educational opportunity was one of many provided by administrators at YMVC and at The Memorial Hospital in Craig, to allow hospital staff to continually advance their knowledge - and their careers.
"We do a lot of different things for continuing education," said Brenda Soos, a registered nurse at TMH. The hospital provides its staff with opportunities for video and satellite conferencing with medical experts from across the country, employee wellness initiatives and ongoing training, both on the job and in the classroom.
At YVMC, Nurse Manager Marie Timlin said the hospital offers classes - for day staff and night staff - covering topics including cardiac life support, neo-natal resuscitation, trauma support and pediatrics.
Leipold and Meade are two of about 40 nurses who Timlin oversees in the intensive care and medical services units. Timlin said the positive effects of career advancement are obvious not only in improved job performance, but also in improved attitudes and confidence.
"They're very proud to write 'RN' after their names," Timlin said.
The achievement did not come easily, said Meade, who sold real estate in South Routt County for five years and worked as a certified nursing assistant at the Doak Walker Care Center before coming to YVMC.
"It's not an easy program," Meade said about two years of community college courses. "You have to be very dedicated and prepared to put in long hours."
But the result can be huge. Liebold said that after drawing blood and working in a laboratory as a phlebotomist for 13 years, she needed a change. And she couldn't be happier with her new position.
"I love my job," she said. An RN is responsible for a variety of duties including charting patient progress, dispensing medications, maintaining patient care and safety, and meeting the emotional needs of a patient and his or her family.
Soniya Fidler, recruitment manager at YMVC, said enabling staff to improve their careers and increase their salaries plays a vital role in keeping staff in Routt County.
"We do have a lot of people who end up leaving because of the cost of living," said Fidler, who works on a daily basis to recruit and retain staff at the 550-employee hospital. Nearly 100 of those employees are in nursing positions, which Fidler said can start at a pay rate of about $50,000 a year.