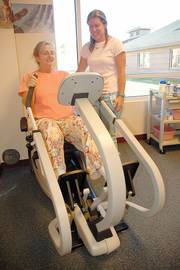 Sandrock Ridge Care & Rehab
Another option for people needing long-term 24-hour care or rehabilitation is the Sandrock Ridge Care & Rehab center in Craig.
The skilled nursing facility opened about a year ago in a newly remodeled building at 943 W. Eighth St.
The center has 58 semi-private beds including 10 beds in "Reflections," a secured care unit designed for patients with Alzheimer's disease, dementia and brain disorders. Specially trained staff closely watch residents in the unit, which includes a dining room, living room and secure yard with gazebo.
The facility also offers physical, speech and occupational therapy for patients recovering from accidents, strokes and debilitating diseases.
For more information, call 826-4100.
At 56 years old, Deb MacIntyre is younger than nearly all the residents at Doak Walker Care Center.
She was not in need of the long-term care that the full-service nursing home typically offers, but is instead taking advantage of one of the services offered at the center. She is in need of a temporary stay while she undergoes physical and occupational therapy.
In August, MacIntrye, who lives in Hayden, was bucked off her horse and broke several bones in her back. Her mobility is limited, and she had to learn new ways to do tasks that used to be simple, such as putting on her socks.
"I just can't say enough for the people here," MacIntyre said of the staff and residents at Doak Walker Care Center. "They're so compassionate and caring. I've never had one grumpy nurse."
She is looking forward to getting well enough so she can return home, but MacIntyre said she will keep the nursing home in mind for the future.
"I never thought much about the Doak Walker Center before," she said. "I thought it was just a nursing home, and it's so much more than that. My view of a nursing home has always been different than what I see here; the people here keep people's spirits."
After MacIntyre's back surgery, she was expected to stay in the Doak Walker for three weeks with three hours of therapy each day.
"Anything we need to do to get you safely home," said occupational therapist Angela Silvernail during one of MacIntyre's therapy sessions.
The Doak Walker Care Center staff sets aside four of its 59 bedrooms for short-term residents like MacIntyre. Short-term residents have included people recovering from knee or hip replacements or people who have been in car or ski accidents. Insurance sometimes covers the cost.
"It depends what your private insurance plan is," nurse manager Lee Dickey said. "We're always trying to work with the people and whatever insurance carrier they have."
The facility offers hospice and respite care in addition to the typical long-term care found at a skilled nursing facility.
The center, in Steamboat Springs since 1979 and part of Yampa Valley Medical Center, specializes in long-term, 24-hour care and short-term recovery stays for adults of any age recovering from illness or injury.
Staff began developing a more personal model of care early on with the GrandKids Child Care Center, which matches willing residents with children through the special friends program.
The facility now has resident birds, fish, lots of plants, a summer garden and a recently remodeled dining room where residents can bake bread and cookies while enjoying the smells of home.
The Doak Walker Care Center uses The Eden Alternative method in providing care. "Residents have more access to choosing for themselves," Dickey said. "It is definitely the trend for the future of skilled nursing facilities.
Programs and activities aim to eliminate loneliness, helplessness and boredom - the three "plagues" of growing old, she said.