If you go
What: Open House hosted by Steamboat Base Area redevelopment planners
When: 3 to 6 p.m.
Where: Centennial Hall, 124 10th St.
Call: Project coordinator Joe Kracum at 871-7077
If you go
What: Open House hosted by Steamboat Base Area redevelopment planners
When: 3 to 6 p.m.
Where: Centennial Hall, 124 10th St.
Call: Project coordinator Joe Kracum at 871-7077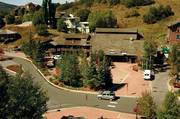 Steamboat Springs — One of the first redevelopment projects at the base of Steamboat Ski Area could be a roundabout near the Steamboat Trading Co. and The Tugboat Grill & Pub.
Redevelopment planners are hosting an open house today at Centennial Hall to provide the public with an update on base area redevelopment, which is scheduled to begin a multi-year construction process in April. Topics for the open house include a public promenade that could stretch from the gondola building to Thunderhead Lodge & Condominiums; pedestrian connections such as a walkway from the Gondola Transit Center to Ski Time Square; an expanded snowmelt system for public walkways; an update on the potential use of geothermal energy at the base area; and a roundabout, which would replace the current intersection leading into Ski Time Square.
The open house will include a presentation to the Steamboat Springs City Council at 5 p.m.
Planning documents state that the current project list for 2007 includes initial signage, a walkway from the transit center to Ski Time Square, and a roundabout, which is in a location that planners call the "North Portal." The estimated cost for design and construction of the three projects is between $2 million and $2.5 million.
Signage for the base area and "project branding" for the redevelopment could use a "Steamboat Unbridled" slogan, featuring signs with pictures of athletes or a horse in motion over the slogan. The Urban Redevelopment Authority Advisory Committee has recommended the brand to city officials.
Wenk Associates and Kracum Resources are designing the base area redevelopment. Staff from both firms will be at today's open house and presentation to the City Council.