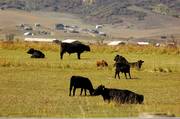 Steamboat Springs — The Routt County Cooperative Extension Office is asking owners of agricultural animals to register their sheep, horses, cattle and goats.
Extension Office Director C.J. Mucklow said the registration drive is being conducted in collaboration with the U.S. Department of Agriculture, which hopes to compile data about the location and quantity of livestock across the country. The information will help the USDA with studies, Mucklow said, especially those relating to the spread of disease in animals.
"What they're trying to do is have the ability to track diseases quicker," Mucklow said Monday.
Animal registration is free and involves filling out a form and submitting information to the Denver office of the state Department of Agriculture, Mucklow said. Forms are available at the extension office in the Routt County Courthouse Annex in downtown Steamboat Springs, Mucklow said, or they can be mailed to animal owners upon request.
"We would be happy to mail these forms to anybody who wants to help out," Mucklow said. The Extension Office can be reached at 879-0825.
The USDA can be contacted through an "Animal ID Hotline" at (877) 842-0102.
Mucklow said he estimates that there are between 400 and 500 livestock owners in Routt County. Of those, 17 are registered in the program, he said.
Mucklow said he hopes to achieve 25 percent registration, or about 125 registered owners, by the end of this year.
Although Mucklow said he is aware of the "negative connotations" some owners may have with the registration program, such as a violation of privacy, he emphasized that the program is voluntary.
But that condition may not last.
"It's voluntary now - and mandatory is coming," Mucklow said.