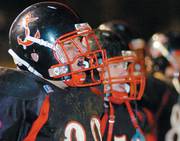 Steamboat Springs — After letting the dust settle and re-evaluating Friday night's 16-6 loss to Eagle Valley, Steamboat Springs football coach Aaron Finch knows one thing for sure.
The Sailors' season-long goals are still very much in reach.
"If we have to lose one, I'd rather lose this one than one of the last four," Finch said. "We made it tougher on ourselves, but we can still play and still get to the playoffs."
Last year, the Sailors came through their first four games with a 3-1 record. This year, they have an identical record. Finch said getting through the first four games at 3-1 is quite an accomplishment. The Sailors have wins against Kent Denver - a perennial powerhouse in Class 2A, Laramie - a 5A team in the mix for a Wyoming state title and Palisade.
"To come out of that stretch 3-1 is good," he said. "We're a good football team. We didn't play well last night, but this is a good team. I know we'll play better."
Although Steamboat didn't play its best against the defending league champions, Finch said he saw some things he liked.
"As poorly as we played, it was still 3-0 going into the fourth quarter," he said. "We were still in a position to win if we could get our offense going. That says a lot about the potential of our football team."
Offensively, the Sailors never were able to get into a rhythm. On the first offensive play from scrimmage, the Sailors fumbled. After that, they moved the ball into Eagle Valley territory only once.
"Once you go down that offensive spiral, it's real hard to get back into it," Finch said.
Eagle Valley was the first team this year that was able to move the ball on the ground against the Sailors. They accounted for more than 200 yards rushing and two touchdowns.
"If we don't bring a tougher brand of football, then we're an average football team in this league," Finch said. "It's really hard in a game like football to bring it every week. We're a better team than we showed, but we definitely have to improve."
Maybe the best thing that can happen to the Sailors is their upcoming bye week. Steamboat was without starting running back Jay Hanley for the second straight week, and lineman Lane Shipley left Friday's game with a knee injury. Finch said both will be re-evaluated Monday.
Finch said his team will work out the glitches on offense and defense, and he has no doubt the Sailors will be ready to play Moffat County on Sept. 29.
"I feel confident that the kids will respond well and not be happy with the way we played," he said. "We'll figure it out and get some guys healthy."