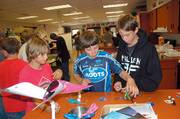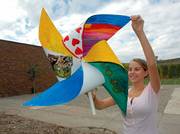 Steamboat Springs — Peace means something different to everyone.
To Steamboat Springs eighth-grader Jeffrey Gay, peace is symbolized by the picture of a globe with people holding hands around it.
To eighth-graders Kimberly Heald, Camille Sachs and Linnea Dixson, peace is in the serenity of flowers blowing in the wind.
To Steamboat Springs Middle School shop teacher Johnny Walker, peace is allowing children to make their impressions and expressions felt in the community. That is why he and his daughter, Chula Walker-Griffith, helped start the Pinwheels for Peace project in Steamboat Springs.
Walker-Griffith is the art teacher at the high school.
"Kids use art to recognize moral issues," Walker said. "Pinwheels have a good feeling about them."
More than 700 children, teens and young adults are building pinwheels to be displayed this week on the Routt County Courthouse lawn. The public art display is dedicated to Nathan Hertzog, one of Walker-Griffith's childhood friends.
Steamboat Springs and Hayden elementary school students and students at Colorado Mountain College also are involved in the Pinwheels for Peace project, which is a non-political, non-denominational national project created to educate students and create the opportunity for them to express notions of peace.
The pinwheels will go on display starting at 4 p.m. Wednesday.
"Show up," Walker urged volunteers interested in helping put up the pinwheels. "We are going to build a massive art display."
The middle school students completed their project in their Encore classes. The children built their pinwheels and installed the hardware in shop class, painted the pinwheels in art class, created collages to go on the pinwheels in Basic Life Training class and wrote a statement describing peace in foreign language class.
Local businesses donated the materials to build the pinwheels.
The pinwheels will be on display Wednesday and Thursday, and they also will be for sale, but the prices and how the sale will be handled is still undecided, Walker said.
Heald, Sachs and Dixson spent their lunch period Thursday working on a pinwheel they think will sell without a problem.
"We wanted to make an extra special one," Heald said. "When wanted to make one (so that) when (a person) bought one, they had a special one."
The girls spray-painted the plastic a tie-dye blue and cut flowers that will be covered in transparent gels from old theater lights. The transparent flowers should pick up sunlight as they spin through the breeze.
"We wanted it to be abstract," Dixson said.
- To reach Melinda Mawdsley, call 871-4208 or e-mail mmawdsley@steamboatpilot.com